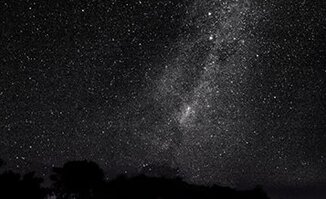 Astronomy Lecture

With the advent of the night, you have a unique opportunity to listen to a lecture on astronomy in the open air, contemplating the starry sky. These lectures will help you to do fundamental research in astronomy and astrophysics and learn new things.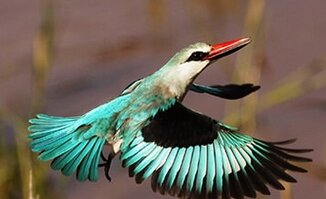 Birding

Sabi Sands Game Reserve offers to view different types of birds. Africa's highest level of endemism in the most accessible setting: 185 bird species are endemic or near endemic to southern Africa. South Africa contains two of Africa's four biodiversity hotspots as defined by Conservation International.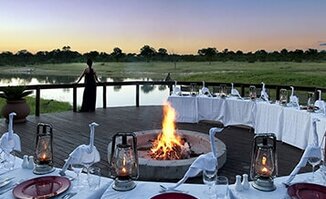 Boma Dinners

Returning to your camp after a successful evening game drive, you are greeted with the enticing sight of beautifully presented dining tables all encircling a roaring fire. Sitting down next to the crackling fire you are warmed by its dancing heat as the evening.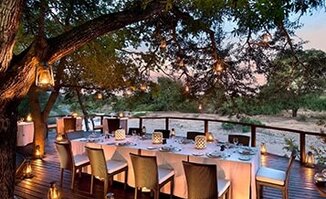 Bush Dinners

Dinner in the bush, is no ordinary experience and visitors are guaranteed to be blown away by the array of delicious meals, all of which are served to you in different locations. Delicious dinners eaten outside under gently lit trees are a wonderful experience loved by all.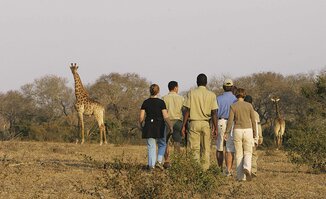 Bush Walks

Visitors may head out on foot with their armed ranger. The perspective of the bush is entirely different to that of a vehicle, and guests will learn to read the signs of the wild, and perhaps come into close contact with the different animal species on the reserve.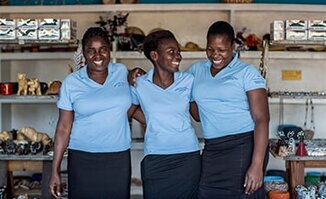 Community visits

There's no better way to get a glimpse into real African life than by visiting one of its rural communities. A trip to one of the villages surrounding the Sabi Sand Game Reserve provides a glimpse into the challenges, hopes, and dreams of this local community in a way that not only educates but also inspires.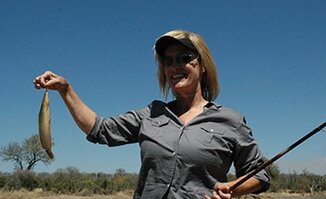 Fishing

There are over 37 species of fish to be caught in the Sand River. Apart from the relaxing aspect of fishing, it is a glorious way to be at one with the bush, listening to the chirping of the various bird species or the sounds of Hippos in the distance.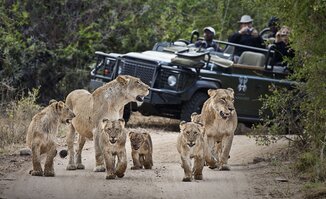 Game Drives

Rest your feet while going deeper and farther than you ever thought possible for up-close game encounters. The game drives leave just before sunrise, ensuring that you get to see the entire bush wake up. The feeling of excitement and being at one with nature is indescribable.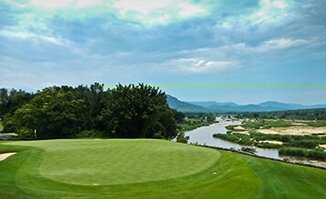 Golf

A golfing holiday affords you the unique opportunity to combine your favorite sport with the unrivaled game viewing opportunities offered by the Kruger National Park, and with the possibility of looking in your game of golf, you won't even need to venture far to view some of South Africa's finest game.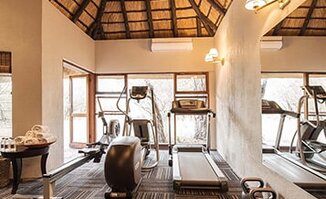 Gym Facilities

What better way to work up a sweat on the various gym machines while looking over the bush below. A well-equipped gym caters to your need for physical exertion when the African pot begins to pad the hips and you have had adequate time relaxing on your deck.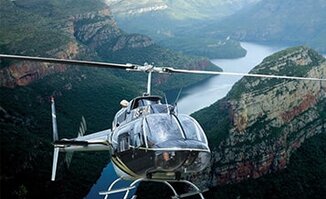 Helicopter Flight

This exhilarating flight swoops over deep canyons bursting with vegetation and color. The helicopter lingers above cascading waterfalls, allowing for spectacular photographic opportunities. Your flight will continue along the escarpment which offers awesome panoramic views.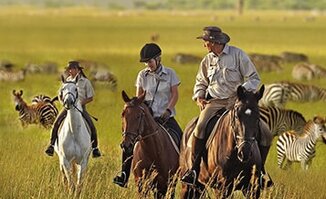 Horse Riding

Explore long sandy beaches, lush vineyards or mystic mountains on horseback is an entirely unique experience. Discover the diverse wildlife and many picturesque South African treasures whilst horse riding. Let the horse do the work whilst you relax, breathe in the fresh air and admire the beautiful sights around you.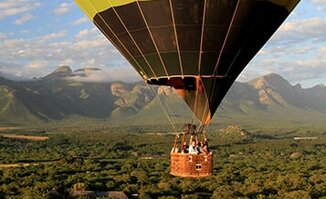 Hot Air Ballooning

Embark on a safari from above, in the comfort of a massive, weaved basket, securely attached to a billowing balloon. It's a great addition to a safari and offers great and unique views in different game reserves – with the teeming wildlife and beautiful landscapes below.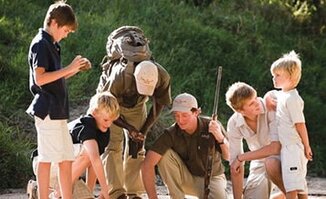 Junior ranger programme

MalaMala Game Reserve offers now only proffesional programs for more experience rangers, but also for the begginers. You will be teached by true profi and will know all the details how to survive in wild nature of South Africa.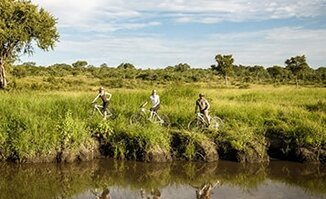 Mountain Biking

If you're more comfortable on two wheels than four or even if you're just looking for a more adventurous way to explore the rugged landscape of the Sabi Sand or Kruger National Park, the ideal answer is a mountain biking trail through the nature reserve.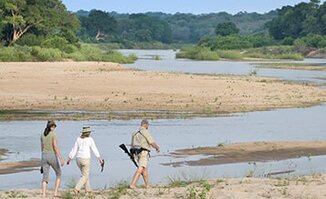 Nature walks

Explore beautiful viewing of South Africa flora during your walks with professional rangers, who will tell you in detail about the nature. Your day time walks will take about 2-3 hours and after that you will be able to cool down with some cold drinks or in pool.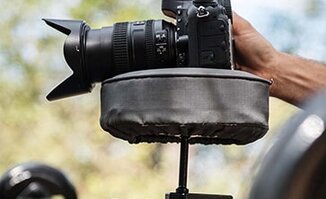 New Photographic Vehicle

We are excited to advise that we now have a dedicated photographic vehicle comprising: 3 rows of 2 bucket seats, a sliding camera mount per row, bean bags for camera stability, under-seat lighting, a dedicated photographic ranger.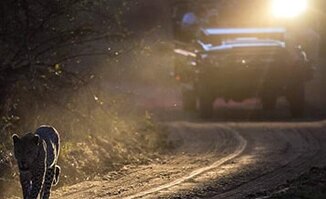 Night Game Drives

As it gets darker your guide hands out some spotlights which you can use to track the animals with. You learn how to slowly scan the trees and shrubs around you and to pick out the shiny white reflections from the light on the animal's eyes.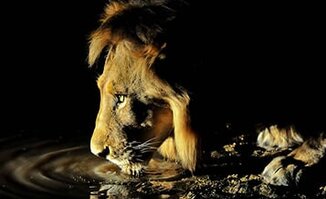 Night Safaris

As the sun sets over the horizon, the African bush is awash with colours and sounds. The evening dawns and the nocturnal animals come out from their sleeping spots. Night time is when new adventures are to be had while on safari.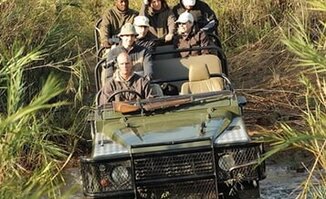 Off-Road Game Viewing

In national parks and some other reserves, rules prohibit leaving the designated safari paths. But the wildlife are not always considerate enough to stay nearby. Get better vantages (and better photos) by heading off-road.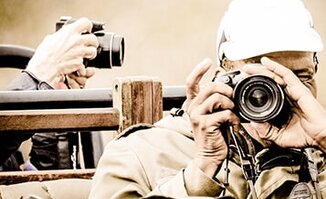 Photographic Safaris

Booking a specialised photographic safari allows you the opportunity to concentrate on photographing the animals, comfortable in the knowledge that the other guests around you are as keen to capture the perfect shot as you are.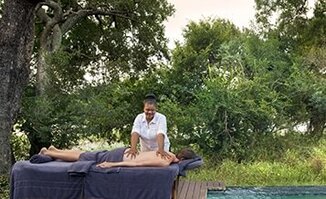 Spa Treatments

Massages, skin & beauty Spa treatments, promises an aura cleanse, body balance & sensory experience. The perfect place to rest and relax, this haven of tranquillity offers the ultimate African Spa experience.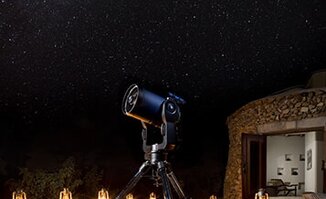 Stargazing

The majority of people who live in cities are unable to observe the beauty of the night sky because light pollution prohibits any form of star-gazing. One of the highlights for many of our guests is a chance to observe the splendour of the Milky Way.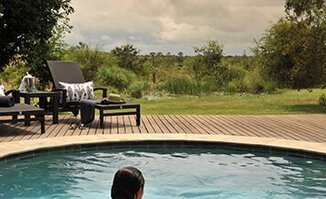 Swimming

The best way to end the day is to swim in a pool, with spectacular views of the unspoiled landscape surrounding. The swimming pools are well situated for both bird watching and game viewing, whilst cooling off with a refreshing drink in hand.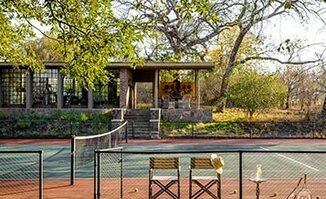 Tennis

Away from the main towns, however, at more remote camps, lodges and resorts, tennis courts are relatively uncommon but for sports lovers, a tennis pavilion is offered at Sabi Sands safari lodge. This is the perfect location for a game of tennis, followed by leisurely lunch or dinner.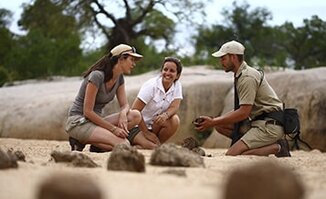 Tracking

The Sabi Sand Game Reserve is well known for its leopard sightings and you may well spot one of these elusive cats resting after a successful night hunt. In the company of a ranger and tracker team, they will attempt to track your favourite animals.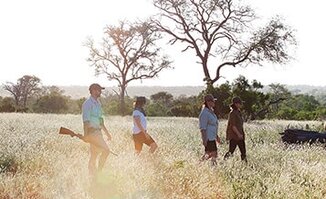 Volunteer Tourism Safari

Volunteer Tourism gives you the chance to experience the wildlife and beauty of one of South Africa's top safari destinations, the Sabi Sands, while also getting more involved in African bush and the finer details of your surroundings.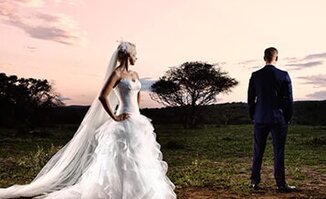 Weddings & Honeymoons

For the couple who seeks an intimate destination, without "frills" but with a heart of warm African hospitality, beautiful sunsets, panoramic views and beautiful accommodation – MalaMala is the place for romance. Escape to the place buried in the wild of Africa.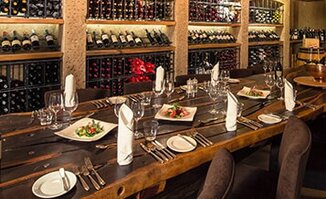 Wine Tasting

The combination of wine tasting and safari could possibly be the match made in heaven we've all been dreaming about. Wine connoisseurs will appreciate the spectacular cellar wich collecting the finest South African wines and offering interactive wine tastings.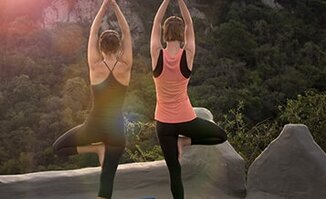 Yoga

Healthy body; healthy mind. Of course, it means something different to each and every person, but at its core is the common desire to live a good life – physically, mentally and spiritually. Yoga sessions will take place on the yoga deck beside the people both at beginners and intermediate level.