About Sabi Sand Game Reserve
The Sabi Sand Game Reserve is situated in the southwestern corner of the world-renowned Kruger National Park in South Africa and consists of 65 000 hectares (160 620 acres). It is the most prestigious game reserve in South Africa and is famous for incredible leopard and lion sightings.
With one of the richest game populations in the country, the chances of seeing the Big Five are excellent. Even though there is a 50-kilometre unfenced boundary with the Kruger National Park, wildlife in the Sabi Sand Reserve is well habituated resulting in extraordinary close encounters and prolific sightings, particularly of the elusive leopard.
The reserve offers the best collection of luxury 5 Star Safari Lodges, ensuring an unbeatable Safari experience
Unparalleled Wildlife

From excellent opportunities for encounters with the Big 5 to the full diverse range of other indigenous wildlife, the area has it all.

Game Drives

Open vehicle game drives are the best way to get close to these majestic animals. Experienced rangers deliver once-in-a-lifetime moments.

Superb Safari Lodges

World-famous, highly rated private lodges abound in the area and the reserve, delivering the ultimate in luxury in a safari setting.

Night Game Drives

At night the bush comes alive once more as the nocturnal animals emerge. Vehicles are fitted with spotlights for optimal game viewing.

All-inclusive Packages

For complete convenience, most travel packages are all-inclusive and offer meals, drinks, activities and more as part of the price.

Based on millions of reviews we've been awarded one of the Top 10% Attractions worldwide!

Tripadvisor Travelers' Choice 2020
Explore Sabi Sands Accommodation
Get to know our fabulous accommodations in the Sabi Sands Game Reserve
Activities Spotlight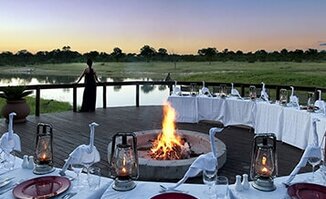 Boma Dinners
Returning to your camp after a successful evening game drive, you are greeted with the enticing sight of beautifully presented dining tables all encircling a roaring fire. Sitting down next to the crackling fire you are warmed by its dancing heat as the evening.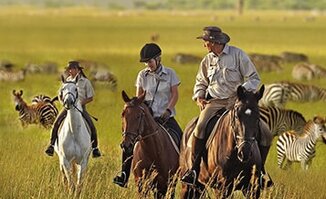 Horse Riding
Explore long sandy beaches, lush vineyards or mystic mountains on horseback is an entirely unique experience. Discover the diverse wildlife and many picturesque South African treasures whilst horse riding. Let the horse do the work whilst you relax, breathe in the fresh air and admire the beautiful sights around you.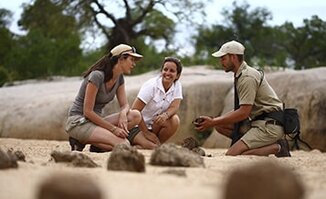 Tracking
The Sabi Sand Game Reserve is well known for its leopard sightings and you may well spot one of these elusive cats resting after a successful night hunt. In the company of a ranger and tracker team, they will attempt to track your favourite animals.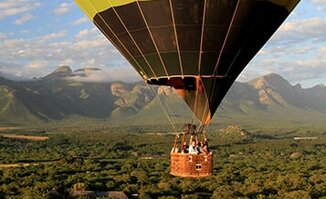 Hot Air Ballooning
Embark on a safari from above, in the comfort of a massive, weaved basket, securely attached to a billowing balloon. It's a great addition to a safari and offers great and unique views in different game reserves – with the teeming wildlife and beautiful landscapes below.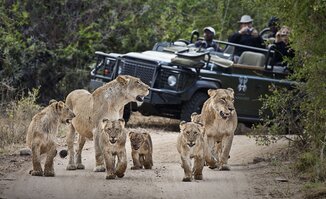 Game Drives
Rest your feet while going deeper and farther than you ever thought possible for up-close game encounters. The game drives leave just before sunrise, ensuring that you get to see the entire bush wake up. The feeling of excitement and being at one with nature is indescribable.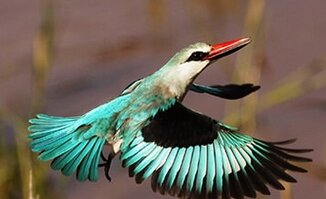 Birding
Sabi Sands Game Reserve offers to view different types of birds. Africa's highest level of endemism in the most accessible setting: 185 bird species are endemic or near endemic to southern Africa. South Africa contains two of Africa's four biodiversity hotspots as defined by Conservation International.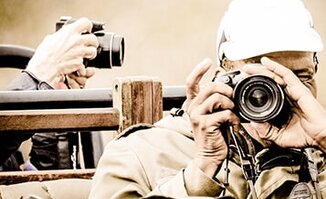 Photographic Safaris
Booking a specialised photographic safari allows you the opportunity to concentrate on photographing the animals, comfortable in the knowledge that the other guests around you are as keen to capture the perfect shot as you are.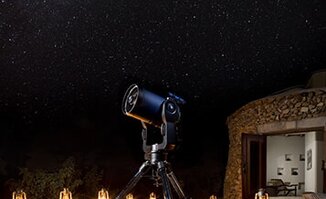 Stargazing
The majority of people who live in cities are unable to observe the beauty of the night sky because light pollution prohibits any form of star-gazing. One of the highlights for many of our guests is a chance to observe the splendour of the Milky Way.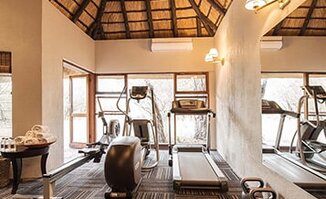 Gym Facilities
What better way to work up a sweat on the various gym machines while looking over the bush below. A well-equipped gym caters to your need for physical exertion when the African pot begins to pad the hips and you have had adequate time relaxing on your deck.
Wildlife
Sabi Sand Game Reserve offers excellent wildlife viewing. This is especially true for flagship species including the big cats. All of the Big Five are usually ticked in a two to three-day visit. The off-road driving assures quality sightings of most species, particularly the habituated resident predators. Sabi Sand is part of the Greater Kruger ecosystem, which makes for a very authentic wildlife experience. Wildlife viewing in Sabi Sands is at its best during the Dry season (June to September). August and September are particularly nice, since it is warmer than in mid-winter and animals tend to gather at water sources, making them easier to spot.

Get Our Best Rates Now
Let Us Help Plan

Your next Vacation