Umkumbe Safari Lodge in Sabi Sands Game Reserve, South Africa.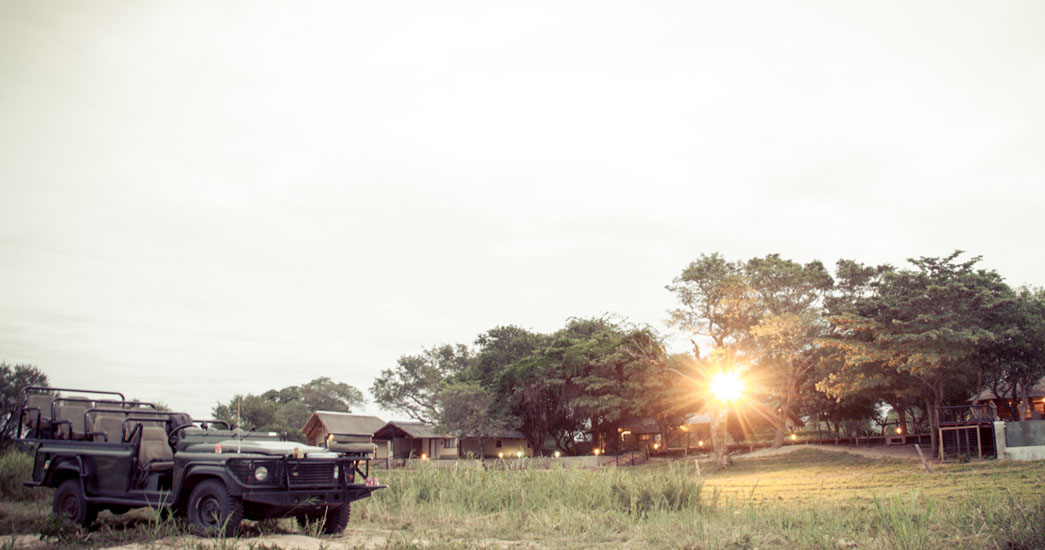 Home Umkumbe Safari Lodge
Rates
Activities
Reviews
Enquiry
Lodge style Affordable elementary bush
Owner run affordable Big 5 safari lodge
Umkumbe Safari Lodge in the Sabi Sands is owner-managed and run; ensuring guests enjoy a personal, rustic and real South African safari experience. The lodge consists of six chalets with most overlooking the Sand River. Guests regularly see elephants, hippos, buffalo and antelope grazing in the river bed. Additional facilities include a swimming pool, lounge, bar and dining area and the traditional boma, where guests are served delicious and hearty South African meals. The focus at the lodge is of the view of the seasonal Sand River, and for obvious reasons. Almost daily guests are treated to sightings of various animals grazing in the riverbed. The main lodge area consists of a lounge area, swimming pool with decking, as well as an open air dining area and bar. All facilities have wonderful views of the riverbed. In addition, a safari to the Kruger would not be complete without the traditional boma experience. Dinner is served around a roaring fire against the natural night sounds of the bushveld.
The lodge sleeps a maximum of 14 guests in seven chalets/rooms. Six of the chalets have en-suite bathrooms (with showers) and one has an en-suite bathroom with both a shower and bath. Four of the chalets are connected via an inter-leading door, offering families or two groups of friends or couples travelling together the perfect accommodation set-up. All rooms have twin or double beds and all have mosquito nets. Bedding is comfortable without being ostentatious. Most of the chalets have a small verandah with camping chairs, and with views of the Sand River (source).
Activities at Umkumbe Safari Lodge
One of the main aims of going on safari in Sabi Sand is to go on a game drive. On game drives you are able to get a lot closer to big game. The animals are generally habituated to the vehicle. This means that they are used to the vehicle approaching them and know that it never causes them harm. This enables to you to get within five to 10 metres of the large animals – and safely! All game drives are conducted in open 4 x 4 Landrovers. No roof allows you 360 degree views, perfect for wonderful photographic and video opportunities.
Two game drives are offered per day (included in the price). The morning drive departs at approximately 06h00 and the afternoon drive at 16h00. On the morning drive there is a stop for coffee and on the afternoon drive you will stop for sundowners. After sundowners guests will get to experience a night drive. The night drives allow guests the opportunity to see the nocturnal animals not encountered during the day. Your chances of seeing leopard in particular are a lot higher at night and with a bit of luck you might even encounter the predators such as lion and leopard hunting. During the night drives, your tracker uses a powerful spotlight to search for nocturnal animals. Expect to see a wide variety of animals not normally seen during the day, including leopards, hyenas, aardvarks, bat-eared fox, porcupines, bush babies, bushbucks, mongoose, genet cats and nocturnal birds like owls and nightjars. For the more energetic, each day after breakfast there is the option of a morning bush walk. The walk is an opportunity to experience the bushveld at close quarters. All walking safaris are led by qualified rangers. They will explain the animal tracks and what animals passed through during the night, in addition to the sophistication of termite mounds and other interesting facets of the bush that go unnoticed on game drives. The chance to walk amongst wildlife allows you to fully immerse yourself in African smells and sounds (source).
Tripadvisor comments Umkumbe Safari Lodge
I had a fantastic three nights at Umkumbe, saw the big five, and also learned a lot about some of the other smaller and not so "popular" animals. I would not hesitate to recommend Umkumbe for a safari holiday. The low prices do not mean less enjoyment or wildlife experiences – only no crystal glasses on the sundowner drives!

smith_susan407 from Perth, Australia
If it wasn't from the great guides, I would only rate this place as average. The rooms needs more attention to details to cleanliness (e.g. spider webs in every corner). We stayed in one of the newer lodges too. We didn't think much of the rooms during our stay until we went to another private reserve lodge after this one. We originally thought having bugs in the room and spider webs were normal since it is a safari. But the second lodge we stayed at was spotless.

Sunny W from London, UK