Ulusaba Safari Lodge, Ulusaba Private Game Reserve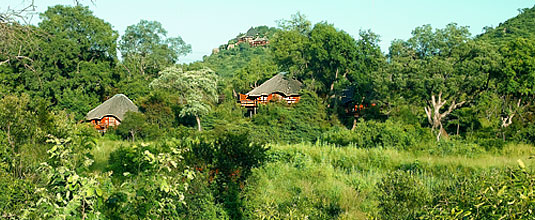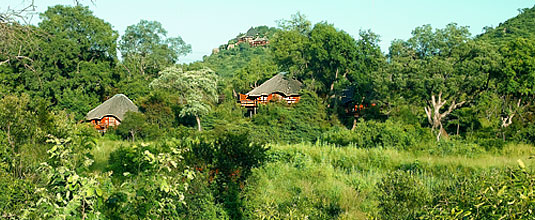 Ulusaba Safari Lodge
Bedroom Suite
Main Lodge – Lunch on the Deck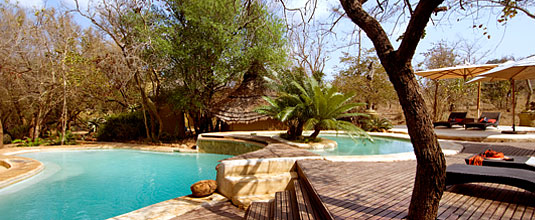 Main Lodge – Swimming Pool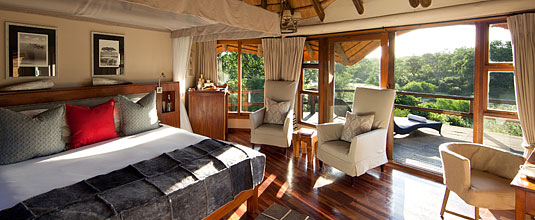 Elephant Room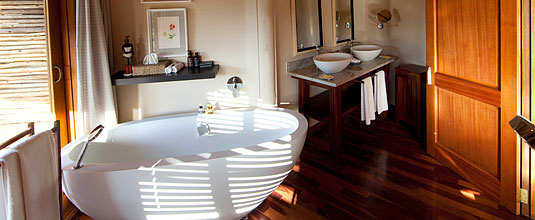 Elephant Room – Bathroom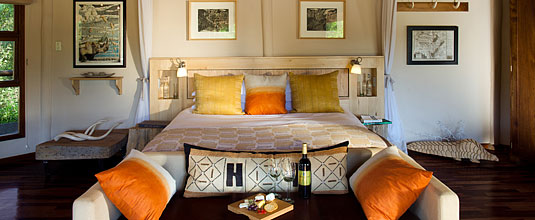 River Room
River Room with Plunge Pool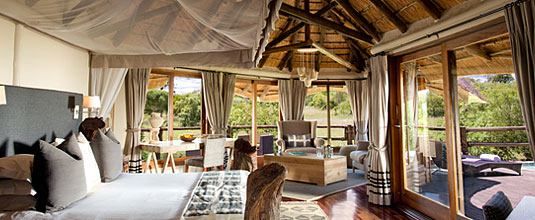 River Room – Lounge & Deck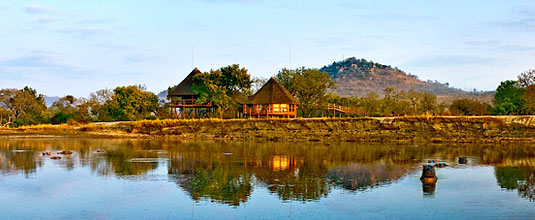 Tree House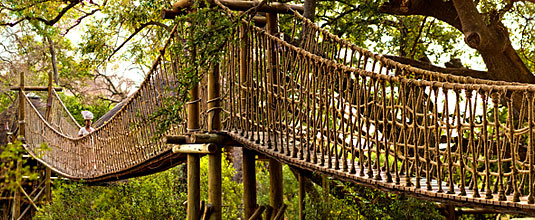 Swing Bridge to Tree House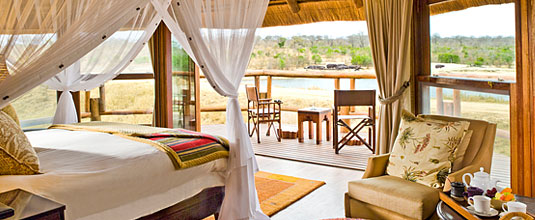 Tree House – View of the River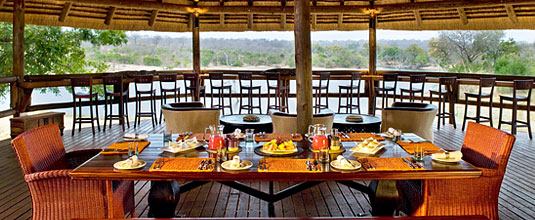 Tree House – Dining Area
Rhino Calf sighting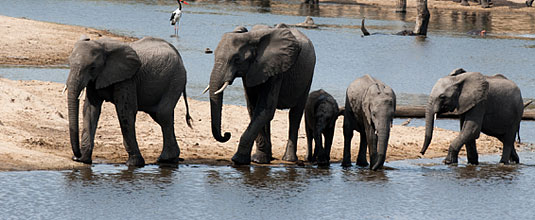 Elephant Herd
Previous Next
Ulusaba Private Game Reserve's Safari Lodge is perfectly located in the western sector of the Sabi Sands Game Reserve – bordering on the world famous Kruger National Park. The Lodge can be accessed by road or air with both chartered and scheduled flights operating daily – flying time is approximately one and a half hours from Johannesburg or 30 minutes from Nelspruit. Alternatively it is approximately a 2 and a half hour's drive from Kruger Mpumalanga Airport in Nelspruit.
Safari Lodge is built on the edge of a dry riverbed, underneath a canopy of ancient trees. The rooms are built in 'tree house' style offering guests a feeling of being in the heart of the bush. Game viewing opportunities are exciting as guests gaze down on the local wildlife passing by on their way to the nearby watering hole.
Ulusaba Safari Lodge at a Glance
Accommodation: 11 'Tree House' Style Rooms
Private Decks – Yes
Private Plunge Pools – some units
Television – Yes in main lounge area
Laundry Service – Yes (no dry cleaning available)
Small Library – Yes
Lodge Pool – Yes
Tennis Courts – Yes
Fully Equipped Gymnasium – Yes
Bush Observatory – Yes
Spa – Yes
Wine Cellar – Yes
Gift Shop – Yes
Make an Enquiry or Booking
Ulusaba Safari Lodge Accommodation
All of the Rooms at Safari Lodge are quiet and secluded and the bath tubs and plunge pools have been thoughtfully placed offering great opportunities to lie back and watch the natural world go by. Some of the rooms are accessed by rope bridges, offering a feeling of adventure and excitement. The rooms are split into Safari, Elephant and River Rooms, some of which have private plunge pools
The Treehouse Suite is built overlooking the Xikwenga Dam – about a 15 minute walk from the main lodge, along swing bridges and a raised walkway – this unit offers visitors a tranquil feeling of seclusion and a chance to not only be at one with nature, but also to watch the animals up close as they come to bathe and cool down in the nearby dam.
Ulusaba Safari Lodge Game Drives
Game Drives in Ulusaba are exceptional with some of the finest and most qualifies rangers and trackers in the reserve. There are usually two daily game drives, traversing over 13,500 hectares in open landrovers looking for not only Africa's 'Big Five' – lion, elephant, buffalo, rhino and leopard, but also a vast range of smaller animals like zebra, giraffe, bushbuck and other animals, reptiles, birds and plants. The rangers have a vast knowledge of the wildlife – animals, plants and birds as well as the delicate balance of different ecosystems and conservation in general.
When guests aren't out game viewing, there are plenty of comfortable spots at Safari Lodge where one can relax and enjoy the bushveld atmosphere. Take a dip in the fresh water pool, watch for passing elephants and bushbuck from the gym or try a relaxing treatment in the Boma Spa. At night gaze at the stars from the Bush Observatory
Ulusaba has their own private air strip and is part of Virgin Limited Edition – Sir Richard Branson's portfolio of unique retreats
Ulusaba's Safari Lodge, perfectly situated within Richard Branson's Private Game Reserve and in the heart of the Sabi Sands Reserve, fits perfectly into the Bush and guests will enjoy a luxurious yet authentic African experience and true South African hospitality.
ENQUIRIES & BOOKINGS
Please complete the following for reservation Enquiries and further information
Disclaimer: The information in these Web sites is used entirely at the reader's discretion, and is made available on the express condition
that no liability, expressed or implied, is accepted by Far and Wild Safaris cc or any of its associates or employees for the accuracy, content or use thereof.