Ulusaba Rock Lodge, Ulusaba Private Game Reserve
Ulusaba Rock Lodge
Main Lodge – Deck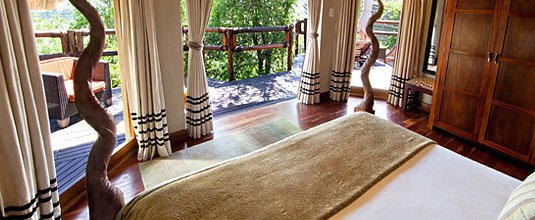 Suite – Bedroom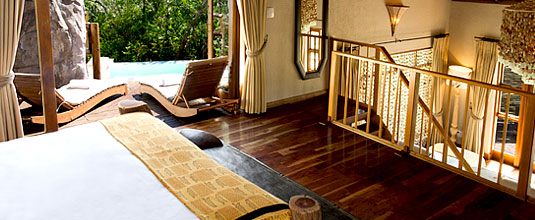 Master Suite with Plunge pool
Main Lodge – Swimming Pool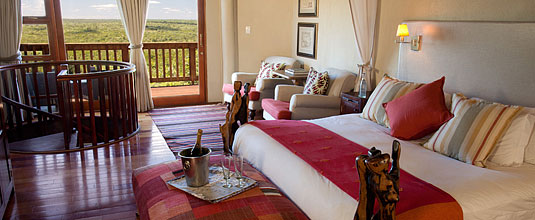 Rock Cliff Rooms – Bedroom
Rock Cliff Rooms – Bedroom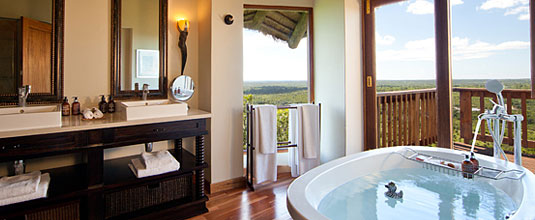 Rock Cliff Rooms – Bathroom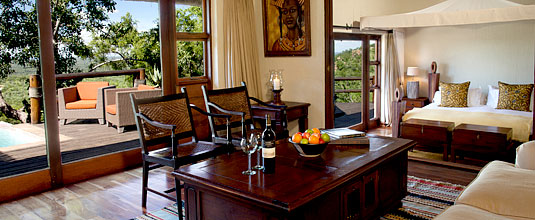 Makwela Suite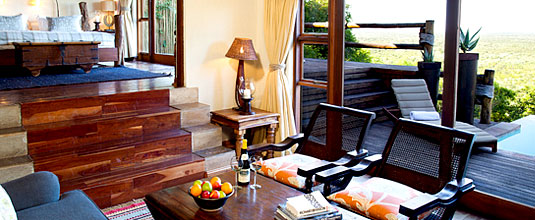 Makwela Suite – Lounge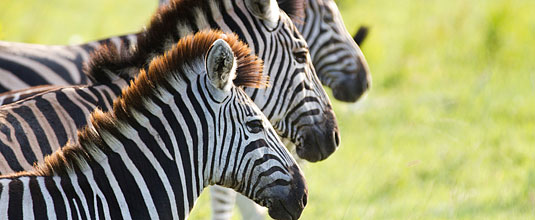 Zebra Herd
Lion Cub
Previous Next
Rock Lodge is located in Ulusaba – Richard Branson's Private Game Reserve, beautifully located in the western sector of the Sabi Sands Game Reserve and bordering the world renowned Kruger National Park. Ulusaba has its own private airstrip operating daily scheduled and charter flights. Flying time from Johannesburg is approximately one a half hours and only 30 minutes from Kruger Mpumalanga Airport in Nelspruit, while driving time is about 2 and a half hours from Nelspruit.
Rock Lodge is set high on the summit of a 'koppie' offering spectacular views over miles of Bush – encompassing the beauty of the lowveld below, set against a backdrop of mountains far in the distance.
Ulusaba Rock Lodge at a Glance
Accommodation: 10 Rooms
Maximum Guests: 20 – 25
Private Decks – Yes
Private Plunge Pools – some units
Children – Yes
Child-minding – Yes
Television – Yes in main lounge area
Laundry Service – Yes (no dry cleaning available)
Small Library – Yes
Tennis Courts – Yes
Fully Equipped Gymnasium – Yes
Bush Observatory – Yes
Spa – Yes
Make an Enquiry or Booking
Ulusaba means 'place of little fear' and derives from the ancient Shangaan warriors, who used the 'koppie' where the lodge is situated as the perfect look-out point.
Ulusaba Rock Lodge Accommodation
There are ten rooms and suites at Rock Lodge, all individually designed with decor that incorporates modern as well as traditional African art. The granite rock of the 'koppie' is a key feature in the design of the main lodge and each of the rooms has the colours of a different African tribe.
Safari Game Drives at Ulusaba Rock Lodge
Game Driving in Ulusaba is exceptional and boasts some of the finest and most qualified rangers and trackers in the reserve. The lodge offers two daily game drives and a daily bush walk. Covering over 13,500 hectares of game-rich African bush, guests have the opportunity of spotting Africa's 'Big Five' – lion, leopard, elephant, rhino and buffalo as well as a host of smaller game like giraffe, zebra, cheetah, hippo, impala, bushbuck, other small antelope, bird life and fauna to name but a few.
There are numerous facilities available at Ulusaba and when guests aren't out enjoying the African bush on a guided game drive or walk – there is a Swimming Pool, Beauty Treatment Centre, Tennis Courts and Fully Equipped Gym. The Lodge also has a small Library and a Star Gazing Observatory
Ulusaba's Rock Lodge, is perfectly situated 'on top of the world', within Richard Branso's Private Game Reserve – inthe heart of the Sabi Sands Reserve. Views from the lodge are spectacular and guests will be constantly reminded how spectacular nature can be.
ENQUIRIES & BOOKINGS
Please complete the following for reservation Enquiries and further information
Disclaimer: The information in these Web sites is used entirely at the reader's discretion, and is made available on the express condition
that no liability, expressed or implied, is accepted by Far and Wild Safaris cc or any of its associates or employees for the accuracy, content or use thereof.
No. of Days / Nights: 1 Day2 Day / 1 Night3 Day / 2 Nights4 Day / 3 Nights5 Day / 4 Nights6 Day / 5 Nights7 Days / 6 Nights8 Days / 7 Nights9 Days / 8 Nights10 Days / 9 Nights11 Days / 10 Nights12 Days / 11 Nights13 Days / 12 Nights14 Days / 13 Nights15 Days / 14 Nights16 Days / 15 Nights17 Days / 16 Nights18 Days / 17 Nights19 Days / 18 Nights20 Days / 19 Nights21 Days / 20 Nights22 Days / 21 Nights23 Days / 22 Nights24 Days / 23 Nights25 Days / 24 Nights26 Days / 25 Nights27 Days / 26 Nights28 Days / 27 Nights29 Days / 28 Nights30 Days / 29 Nights31 Days / 30 NightsMore than 31 Days / 30 Nights
No. of People: 123456789101112131415161718192021222324252627282930More than 30

Please type this code below


Source