Ulusaba Private Game Reserve, Sabi Sand Private Game Reserve
Ulusaba Cliff Lodge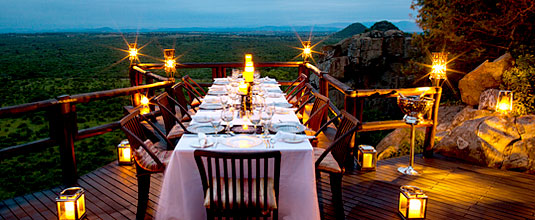 Ulusaba Rock Lodge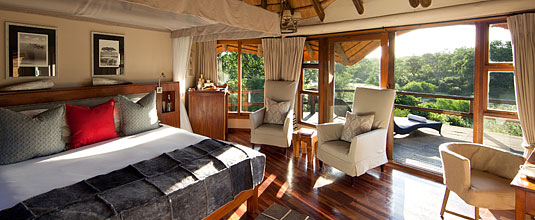 Ulusaba Safari Lodge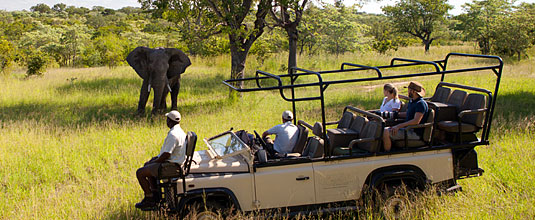 Elephant Sighting
Male Lions Fighting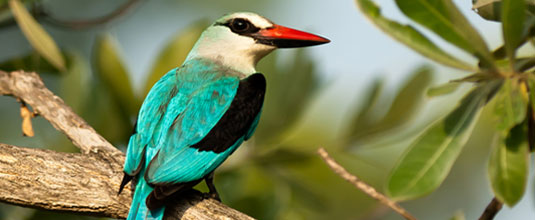 Kingfisher Sighting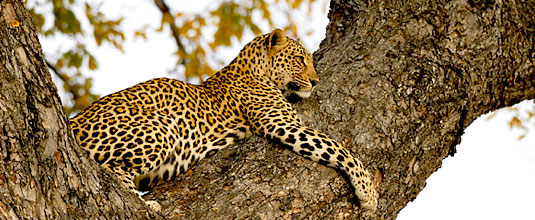 Leopard sighting in the tree
Zebra herd drinking at a waterhole
Previous Next
Ulusaba Private Game Reserve is situated in the Western sector of the Sabi Sand Private Game Reserve, open and adjacent to the Kruger National Park. Sir Richard Branson has developed three outstanding venues, Rock, Cliff and Safari Lodges.
Rock and Cliff Lodges are perched on an inselberg (koppie) and provides panoramic views over the bushveld below.
Safari Lodge is built on the bank of the usually dry Mabrak River, amongst the riparian forest where swing bridges and boardwalks link the luxurious tree house rooms to the main Lodge facilities.
Ulusaba is a wonderful Honeymoon destination, small weddings too and there is a Spa and Wellness Centre, Gym, tennis courts and swimming pools.
Make an Enquiry or Booking
Ulusaba Activities
Ulusaba Private Game Reserve offers guided game drives in their open 4×4 game viewing safari vehicles, early mornings and late afternoons into the evening, where spotlights are used to find the nocturnal species. Nature walks with a field ranger are offered after breakfast. Here the Ranger will focus on another aspect of the bush, the tracks, signs, lesser animals and birds and the flora. All these activities are included in the tariff.
There are very few experiences that surpass seeing Africa's wildlife, freely roaming in their natural habitat. A wildlife safari to the Sabi Sand Game Reserve in South Africa is so often a once in a lifetime experience; at Ulusaba this is understood, with the aim of all staff to make your African adventure very special, rewarding and as memorable as possible. The excellent game viewing experience can be complimented by other activities, such as stargazing, bird watching and even dinners or sundowners in the bush. There is the Spa, Ulusaba is a super small wedding venue and children are welcome at Rock and Cliff Lodges.
Make an Enquiry or Booking
   Ulusaba Luxury Game Lodges – Sabi Sands

Ulusaba Cliff Lodge
Ulusaba, Sabi Sand Private Game Reserve
Cliff Lodge is close to Rock Lodge main Lodge featuring two luxurious suites which offer guests the ultimate in safari luxury. Cliff Lodge No 1 has a private pool, a second bedroom, this for an extra adult or two children. Cliff Lodge No 2 has its own Jacuzzi with magnificent views over the bushveld. When hiring both suites for exclusive use, your own chef and private vehicle for game drives is included and you have full use of a private gym and spa treatment room. Cliff Lodge can accommodate a maximum of 5 adults and 4 children.
    More Info

Ulusaba Rock Lodge
Ulusaba, Sabi Sand Private Game Reserve
Ulusaba Private Game Reserve's Rock Lodge is perched high on the summit of a koppie with panoramic views over the lowveld and to the distant Drakensberg Mountains. The suites are luxuriously appointed, individually decorated with decor that includes modern and traditional African art. There are standard rooms, a Master Suite, two Makwela Suites and one two-bedroom Rock Suite. The Master Suite and Makwela Suites all have private plunge pools.
    More Info

Ulusaba Safari Lodge
Ulusaba, Sabi Sand Private Game Reserve
Safari Lodge is located amongst the ancient trees of the riparian forest of the Mabrak River. Accessed by boardwalks and rope bridges between tree-house styled suites, with the local wildlife often in close proximity. The eleven Elephant and River rooms include a Treehouse Suite overlooking the nearby Xikwenga Dam, some of the suites have private plunge pools. The exclusive Treehouse Suite is located a 15 minute walk from the main lodge, this on a raised boardwalk.
    More Info
ENQUIRIES & BOOKINGS
Please complete the following for reservation Enquiries and further information
Disclaimer: The information in these Web sites is used entirely at the reader's discretion, and is made available on the express condition
that no liability, expressed or implied, is accepted by Far and Wild Safaris cc or any of its associates or employees for the accuracy, content or use thereof.
No. of Days / Nights: 1 Day2 Day / 1 Night3 Day / 2 Nights4 Day / 3 Nights5 Day / 4 Nights6 Day / 5 Nights7 Days / 6 Nights8 Days / 7 Nights9 Days / 8 Nights10 Days / 9 Nights11 Days / 10 Nights12 Days / 11 Nights13 Days / 12 Nights14 Days / 13 Nights15 Days / 14 Nights16 Days / 15 Nights17 Days / 16 Nights18 Days / 17 Nights19 Days / 18 Nights20 Days / 19 Nights21 Days / 20 Nights22 Days / 21 Nights23 Days / 22 Nights24 Days / 23 Nights25 Days / 24 Nights26 Days / 25 Nights27 Days / 26 Nights28 Days / 27 Nights29 Days / 28 Nights30 Days / 29 Nights31 Days / 30 NightsMore than 31 Days / 30 Nights
No. of People: 123456789101112131415161718192021222324252627282930More than 30

Please type this code below


Source