Staying at Ivory Lodge at Lion Sands Game Reserve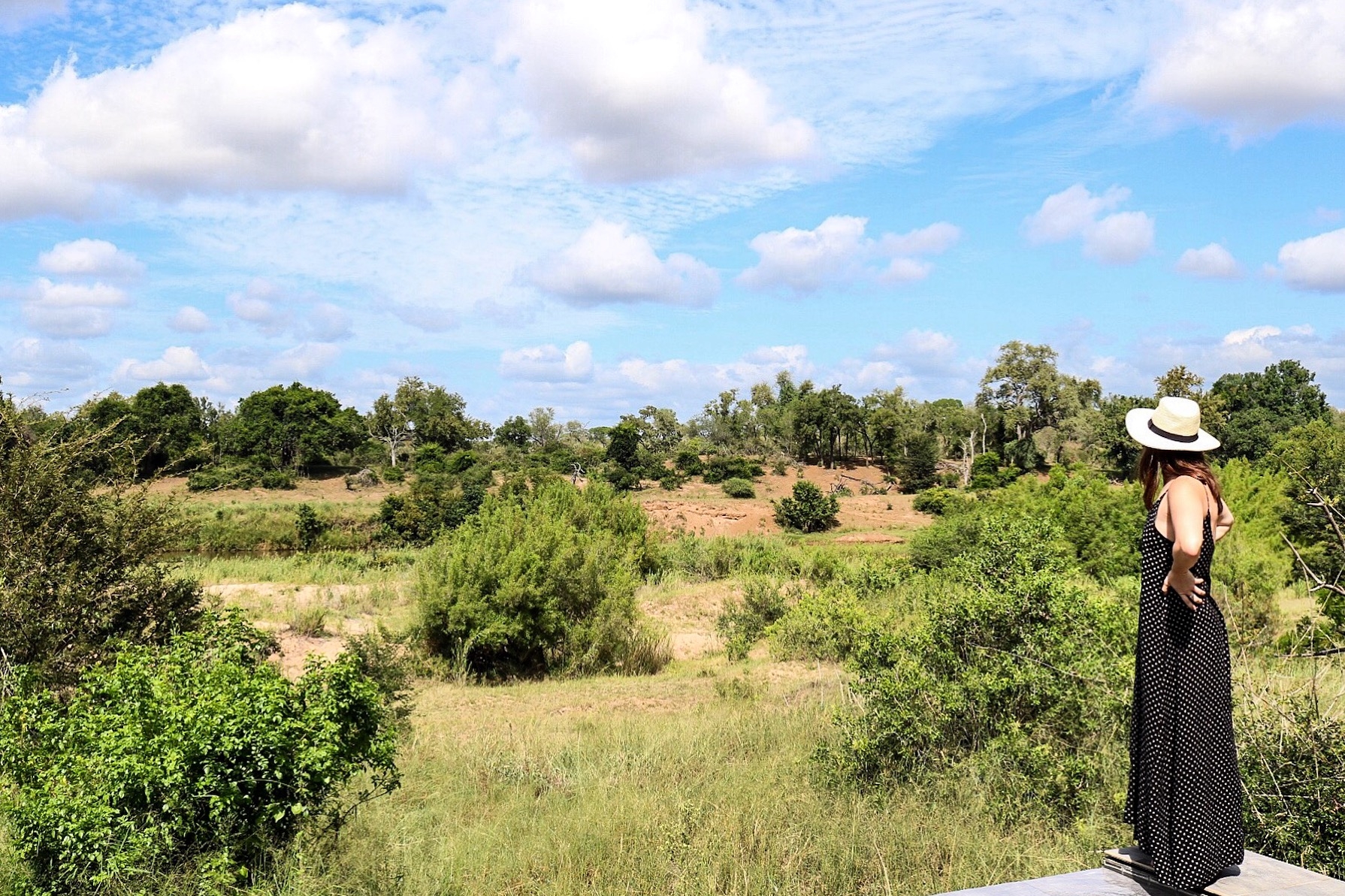 In travel there is luxury accommodation and then there is Ivory Lodge.
I'm extremely fortunate to have done three safaris in my life. One in South Africa's Kruger National Park, one in Kenya's Masaai Mara and Tanzania's Serengeti and one at Ivory Lodge in South Africa's Sabi Sands National Park.
Ivory Lodge is by far the most luxurious safari lodge I've ever had the opportunity of staying at. From the moment you drive up to the lobby, you know that you are in for a serious treat. They have thought of every possible detail at Ivory Lodge and you will notice it consistently throughout your stay.
I've never felt so at home and welcomed at a hotel as I did at Ivory Lodge. There are only 9 villas and caters to couples and honeymooners so it's a very quiet and private experience.
The Rooms
The rooms at Ivory Lodge are so stunning that you will actually think they aren't real. I've traveled A LOT in my life and I've never stayed in a villa this nice. The one bedroom suites are 1560 square feet which is more than 3 times the size of my New York City apartment!
The villas have either a king size bed or two single beds. They have a massive deck overlooking the bush with an infinity pool and covered day bed. While at Ivory Lodge, the days are yours and I chose to spend an entire afternoon just sitting on the deck waiting for animals to walk by in the bush behind. And they did! I saw two bush buck and an elephant while sitting by our infinity pool.
The infinity pool is quite shallow and small so it's more something to wade in and cool off. It isn't heated but with the hot sun beating down on the small pool, it is actually quite warm. The only complaint I have probably about the entire villa is that the one we had didn't get sun on the deck. I would've liked to get a tan in the afternoon between game drives.
I have to talk about THE HOLE. It was honestly probably my favorite part of the villa because it was just so unique. Game drives start early at Ivory Lodge. You are woken by your guide at 5:30 a.m. to leave for your morning drive at 6. Since the animals mostly sleep during the day, it's best to see them in action in the morning. To prepare for your drive, you're brought coffee and a small breakfast through a secret hole in your villa's kitchen. It's behind sliding wooden doors so you don't really notice it but trust me, when that phone call comes at 5:30 a.m., you will instantly be thinking of the hole and wondering if your coffee has arrived yet!
Bedroom at Ivory Lodge
Living room in your villa at Ivory Lodge
The view as we walked into our villa at Ivory Lodge
You can choose a tub, indoor shower OR outdoor shower in your villa
The Food
You can never get tired of the food at Ivory Lodge because the menu changes every day. There are also almost daily chances to try something new that you may not find in your home country including Kudu, Springbok and Ostrich meat as well as Chakalaka, a spicy vegetarian dish.
Ivory Lodge is GREAT about dietary restrictions. It's a dream for the the non-dairy diners out there. They have coconut milk, soy milk and almond! Right after booking they ask for any allergies or diet restrictions so there are special menus for you upon arrival. I was worried about being "fussy Americans" by listing our group's allergies and dairy freeness but the staff informed me they've seen MUCH worse. A little dairy free was nothing!
You are fed constantly during your stay at Ivory Lodge. You have snack stops on both of your daily game drives, three meals a day as well as an afternoon tea before your 4pm drive begins. I only gained 3.5 pounds in 4 days but it felt like 10!
Each week Ivory Lodge hosts a braai, or barbecue as we know it back home in New York. They set up tables around the Lodge's fire pit and set up a big cook out and buffet. It's a chance for guests to experience a South African tradition and to have dinner with their guides. During the braai, the staff performs a traditional African dance around the bonfire which guests are allowed to join.
The Game Drives
Ivory Lodge is located in Sabi Sands National Park which neighbors South Africa's flagship Kruger National Park. You can see the Big 5 in the park which includes elephants, lions, leopards, buffalo and rhino.
The Jeeps are allowed to off road in South Africa (they are not in Tanzania), so you're able to get extremely close to the animals. We got a little TOO close for my liking at some times! But our knowledgeable guides informed us the animals have mostly grown up with the Jeeps around and don't consider you a threat. We watched a leopard munch on an impala up in a tree while we sat almost directly below him. He couldn't have cared less that we were there!
Sabi Sands is a private game reserve so you have to be staying at one of the lodges within the park to enter. I loved this aspect of the park because it made the reserve feel very private. When you found something amazing like lions roaring in the night or leopards chomping on a kill, sometimes 3 safari cars may show up to watch. But it's nothing like in Kenya and Tanzania where you can have upwards of 8 safari cars around one animal at a time. It really enhances the experience to be more private and quiet.
You are paired with a safari guide and a tracker. The guide's job is to drive the safari Land Rover, look for animals and share information about what you're seeing while the tracker's job is to sit on the front of the truck and help tell the guide where to go based on tracks, noises and even poop that the guide can't see from their seat. The guides in the park also speak to each other on a radio so they're able to tell each other when there are animals nearby.
Each day you have two game drives, one leaving at 6am and one leaving at 4pm. There is a morning coffee stop on your drive and each night you have a sundowner stop where you get out of the Jeep in the middle of the bush and have snacks and drinks. They bring a full bar into the middle of the wild every night!
We were paired with Monique and Tony who were truly the best guide and tracker we could have asked for. It's amazing watching them work. Tony could spot an hours old leopard track in the dust after several safari trucks had driven over it. He was able to follow the tracks down the road to try and determine where the animal went. At one point he even got off our truck and walked into the bush with only a knife to try to find the leopard himself while we drove around and looked in another area! It was terrifying but they informed us several times that this was completely normal and they are extremely well trained.
Did I mention you're picked up in the safari truck at the Skukuza Airport? Safari begins the second you land!
You can ask your guide and tracker literally anything and they will have some sort of answer. I'm serious – one of my friends asked if male lions enjoy sex and our guide had a very serious and scientific answer. The training and education they go through to become guides is truly impressive!
There are fewer animals in the Sabi Sands National Park than there are in Kenya's Maasai Mara. In Kenya you don't have to look too hard for the animals because there are just so many. But it almost makes it that much more special at Ivory Lodge when you do find an animal because some drives can be very quiet where you see next to nothing except some birds. And I'm sorry to say, but we're not all bird people!
The Spa
If you're feeling a little tired of game drives by day three, there are plenty of treatments to choose from at the Ivory Lodge spa from massages to eyelash tints. The spa is a very quiet oasis just down the path from the main lobby. There are only 2 therapists but since there are only 9 villas, it's not difficult to book an appointment.
While at Ivory Lodge, I had a 60 minute deep tissue magnesium massage for 900 Rand which was $74 U.S. dollars and a 60 minute facial for 800 Rand which was $66 U.S. dollars. While this is slightly more expensive than the spa at our hotel in Cape Town's Camps Bay, it's still incredibly cheap. I mean $140 for 2 hours of treatments!? You just don't see that in the States. And especially not at a place this luxurious.
I enjoyed my massage and facial so much, I fell asleep during BOTH of them. Hopefully I didn't snore!
Inside the spa area you'll also find a sauna and gym. The gym has two treadmills, a stationary bike, elliptical and free weights with a bench. There's also a mini fridge stocked with water and energy bars for pre or post work out fuel. The gym is small but again, with not many people staying at the Lodge at one time, it's more than enough space.
The Treehouse
A super cool and exclusive experience at Ivory Lodge is their treehouse. It's quite literally a tree house. They've built small rooms with no walls inside of trees where guests can stay the night under the stars.
You are completely safe up there. Obviously Ivory Lodge wouldn't offer the experience if it wasn't. They lock you in to ensure guests don't go off into the bush by themselves after dark. They do this by pulling up the drawbridge that gets you from the ground to the treehouse. Once inside you have everything you need from a shower and toilet to a bed, mosquito nest and bean bag chairs. The treehouses can accommodate 2-4 guests.
While I didn't stay in one of the treehouses, our guide organized to have our sundowners in one on our last night.
If you visit Ivory Lodge for a romantic vacation and you have courage, I recommend staying in a treehouse. You're basically glamping above the treetops. Even just spending an hour there over drinks was something I won't forget.
The Disclosure
Ivory Lodge is incrediblyyyyyy expensive. The Lodge runs about $3,000 per person, per night including food, twice daily game drives and round trip airport transfer. Any beverages, spa treatments and gratuities are an added price on top of that.
I was able to visit Ivory Lodge with an influencer friend of mine who was staying there for free in exchange for social media exposure so I did not pay for my stay. But if I could afford it, I 100% would stay here again! If you are looking for a high end, custom safari experience, I would tell you 10 times over to stay at Ivory Lodge. I can only hope that one day I'll be able to go back!
Related