Singita Sweni Lodge, Singita Private Game Reserve

November 30, 2020
Reserve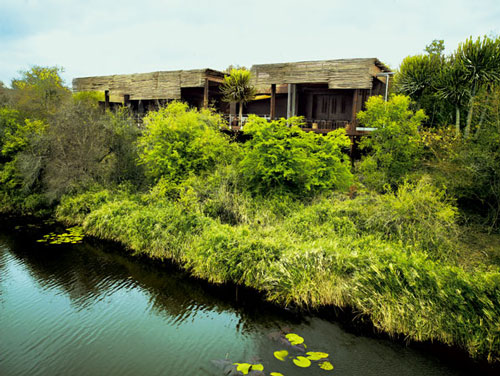 In the dappled shade low on the banks of the Sweni River in the Kruger National Park, Singita Sweni Lodge shares the quiet spaces and secrets of an African waterway. Like Lebombo Lodge, Sweni stands only in temporary appreciation of this magnificent place. With a style that is distinctly African, Sweni unites earthenware pots and ethnic artworks with contemporary pieces, against a dark palette lifted with flashes of lime, avocado and kiwi.
Built on stilts with decks of dark timber, Sweni is the smallest and most taciturn of the Singita lodges, with six supremely luxurious hides tucked away among the trees.
Singita Sweni Lodge at a Glance
Evening and morning game drives

Dinner around the Boma

Beauty treatment at the spa

Gym

Trading Store

Internet and fax

The sole use of Land Rovers can be arranged upon request
Make an Enquiry or Booking
Singita Sweni Facilities
Lounge and timber-deck dining areas overlooking the N'wanetsi and Sweni Rivers, bar area and open boma, gymnasium and health spa, library with internet facilities, wine cellar and swimming pool.
Singita Sweni Activities
Early morning game drives; afternoon into spotlit evening game drives in open Land Rovers; guided bush walks, seasonal and community tours.
Internet, satellite TV and fax facilities are available to our guests at all lodges.
Child policy
We regret that no triples or children under the age of 10 years can be accommodated at Singita Lodges . Exceptions can be made for younger children if the Family Suites at Singita Ebony or Boulders are booked for exclusive use – and if any of the other lodges are fully booked by a single party. For safety reasons we cannot accept children of younger than six years at any of the lodges.
Make an Enquiry or Booking
ENQUIRIES & BOOKINGS
Please complete the following for reservation Enquiries and further information
Disclaimer: The information in these Web sites is used entirely at the reader's discretion, and is made available on the express condition
that no liability, expressed or implied, is accepted by Far and Wild Safaris cc or any of its associates or employees for the accuracy, content or use thereof.
No. of Days / Nights: 1 Day2 Day / 1 Night3 Day / 2 Nights4 Day / 3 Nights5 Day / 4 Nights6 Day / 5 Nights7 Days / 6 Nights8 Days / 7 Nights9 Days / 8 Nights10 Days / 9 Nights11 Days / 10 Nights12 Days / 11 Nights13 Days / 12 Nights14 Days / 13 Nights15 Days / 14 Nights16 Days / 15 Nights17 Days / 16 Nights18 Days / 17 Nights19 Days / 18 Nights20 Days / 19 Nights21 Days / 20 Nights22 Days / 21 Nights23 Days / 22 Nights24 Days / 23 Nights25 Days / 24 Nights26 Days / 25 Nights27 Days / 26 Nights28 Days / 27 Nights29 Days / 28 Nights30 Days / 29 Nights31 Days / 30 NightsMore than 31 Days / 30 Nights
No. of People: 123456789101112131415161718192021222324252627282930More than 30

Please type this code below
Source