Singita Private Game Reserve, Sabi Sand Game Reserve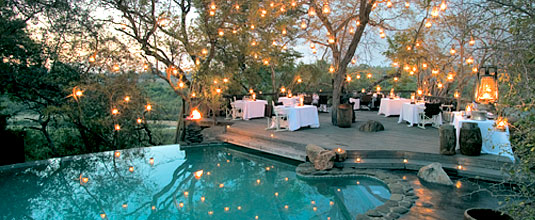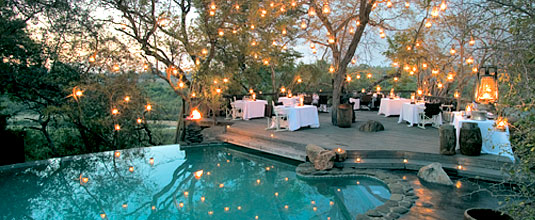 In your stay at the Singita Private Game Reserve you can be assured of one the best safai experiences in the world. Singita is winner of the Worlds No.1 destination Conde Nast Traveler (USA) – 2001/2002/2004 award, No.1 International Resort 2001 & 2002 (Less than 50 rooms)
Harpers Hideaway Report Tatler 101 Best Hotels Of The Year Award,Best Hotel in the World Conde Nast Traveler (UK) 2004, to name but a few.
Singita consists of a number of Luxurious lodges. Ebony Lodge, Boulders Lodge, Lebombo Lodge, Sweni Lodge and Castleton Lodge.
Open landrovers ensure that you get the best possible photographic opportunities. Off-road driving means that you can follow and track animals as they go into the thicker bush, and unlike other areas you are not restricted to viewing animals from the confines of a road. Night drives are a fabulous way to views nocturnal animals such as the cats.
Make an Enquiry or Booking
Awards
Singita scooped no less than three major international travel awards when it was named Best Hotel in the World, Best Small Hotel in the World and Best Hotel in Africa and the Middle East in the US Travel + Leisure World´s Best Awards 2008.
The result of an extensive Travel + Leisure reader´s survey, the winners were announced on 10 July 2008.
Singita is the first South African property to have won these prestigious accolades three times (2004, 2006 and 2008), since the Travel + Leisure awards were introduced 13 years ago.
Luke Bailes, CEO of Singita, said that it was a rare honour and an extraordinary tribute for Singita to be voted their guests´number one hotel experience world- wide. `At Singita, which means `place of miracles´ in Shangaan, we set out to create an unforgettable safari experience for our guests in a world-class eco- environment of luxury and high design. Winning 3 of the world´s leading travel awards for the third time serves as a true inspiration for us to continue doing so.
Make an Enquiry or Booking
Singita Lodges – Sabi Sands Private Game Reserve

Ebony Lodge
Singita, Sabi Sand Private Game Reserve
Ebony Lodge languishes in a cool silence in the shade of jackalberry trees on the bank of the Sand River, in the heart of the Sabi Sands Reserve.
    More Info

Boulders Lodge
Singita, Sabi Sand Private Game Reserve
Boulders Lodge towers over the landscape, a monolith of curving thatch and piled stone that joins seamlessly with the rocky geometry that holds it to the earth.
    More Info

Singita Lodges – Kruger National Game Park

Lebombo Lodge
Singita, Kruger National Game Park
Poised over one of Africa's most dramatic landscapes in the Kruger National Park's glorious south-east, Lebombo Lodge is set against a country that is abundant in water.
    More Info

Sweni Lodge
Singita, Kruger National Park
In the dappled shade low on the banks of the Sweni River, Sweni Lodge shares the quiet spaces and secrets of an African waterway.
    More Info
ENQUIRIES & BOOKINGS
Please complete the following for reservation Enquiries and further information
Disclaimer: The information in these Web sites is used entirely at the reader's discretion, and is made available on the express condition
that no liability, expressed or implied, is accepted by Far and Wild Safaris cc or any of its associates or employees for the accuracy, content or use thereof.
No. of Days / Nights: 1 Day2 Day / 1 Night3 Day / 2 Nights4 Day / 3 Nights5 Day / 4 Nights6 Day / 5 Nights7 Days / 6 Nights8 Days / 7 Nights9 Days / 8 Nights10 Days / 9 Nights11 Days / 10 Nights12 Days / 11 Nights13 Days / 12 Nights14 Days / 13 Nights15 Days / 14 Nights16 Days / 15 Nights17 Days / 16 Nights18 Days / 17 Nights19 Days / 18 Nights20 Days / 19 Nights21 Days / 20 Nights22 Days / 21 Nights23 Days / 22 Nights24 Days / 23 Nights25 Days / 24 Nights26 Days / 25 Nights27 Days / 26 Nights28 Days / 27 Nights29 Days / 28 Nights30 Days / 29 Nights31 Days / 30 NightsMore than 31 Days / 30 Nights
No. of People: 123456789101112131415161718192021222324252627282930More than 30

Please type this code below


Source