Singita Lebombo Lodge, Singita Private Game Reserve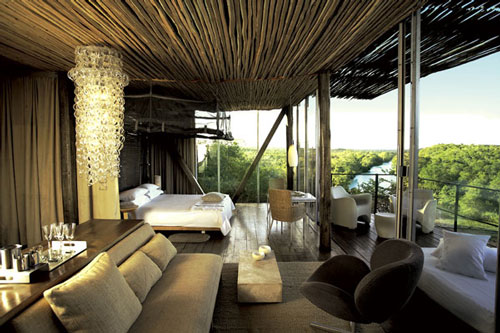 Poised over one of Africa's most dramatic landscapes in the Kruger National Park's glorious south-east, Singita's Lebombo Lodge is set against a country that is abundant in water, antelope and big cats, with colours that shift with the changing seasons. Lebombo was created as a transient witness to the land, constructed of steel, glass and wood in reverence to the African expanse before it.
Walkways snake their way along a ridge, dotted with surreal euphorbia, to lofts clasped like eagles' nests to the mountainside. Sparsely adorned spaces created of wall-to-wall glass; the accommodation suites are places of interaction with a wilderness that echoes to the soul.
Singita Lebombo Lodge at a Glance
Make an Enquiry or Booking
Facilities
Lounge and timber-deck dining areas overlooking the N'wanetsi / Sweni Rivers, bar area and open boma, gymnasium and health spa, library with internet facilities, wine cellar and swimming pool.
Singita Lebombo Lodge Activities
Early morning game drives; afternoon into spotlit evening game drives in open Land Rovers; guided bush walks, seasonal and community tours.
Internet, satellite TV and fax facilities are available to our guests at all lodges.
Children
We regret that we are unable to accommodate children under 10 years of age unless either lodge is block-booked by the same group or family. Children under 12 sharing with adults: less 50% of tariff, only if the lodge is block-booked. Extra beds in the suites cannot be provided.
Make an Enquiry or Booking
ENQUIRIES & BOOKINGS
Please complete the following for reservation Enquiries and further information
Disclaimer: The information in these Web sites is used entirely at the reader's discretion, and is made available on the express condition
that no liability, expressed or implied, is accepted by Far and Wild Safaris cc or any of its associates or employees for the accuracy, content or use thereof.