Mala Mala Game Reserve, South Africa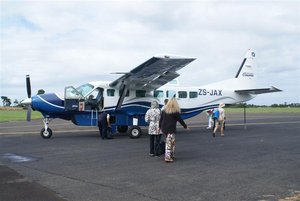 Advertisement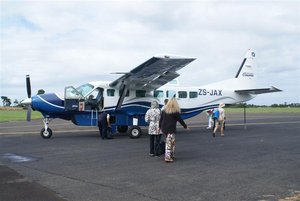 Our Charter Plane
We board our charter flight from Richard's Bay to the Mala Mala Airstrip.
Buckle up…this is a lot of photos! In the couple days prior to our arrival in Richard's Bay, the arrangements for our safari were finalized. Once we docked in Richard's Bay, South Africa, our group of eight was taken to the Richard's Bay Airport where we boarded a 10-passenger Cessna Grand Caravan for our 90-minute charter flight to the Mala Mala Camp private airstrip. We were met by Ryan, our ranger, driver, wake-up call, and about everything. He ate meals with us, took our food orders, brought us drinks, you name it. Actually, Ryan was responsible for Annette, Doug, Charlie, and Elizabeth; and Greg his counterpart ranger, was responsible for Evy, Mike, Bruce and Kathryn, as you'll see in the photos. We were split-up four in each of the 4×4 Land Rovers. Ryan and Greg were both outstanding!
Michael & Norma Rattray have owned Mala Mala since 1964. The Mala Mala Game Reserve is about an hour flight from Johannesburg and encompasses a mammoth 33,000 acres lying next to the world famous Krueger National Park. There is a 12-mile unfenced border that provides unimpeded access to wildlife. A great appeal to such wildlife is the vast array of Mala Mala's
The Happy Travelers
Big smiles…our first safari!
habitat types ranging from open savannah to dense riparian areas and granite outcrops. But, perhaps best is the perennial Sand River of which 8 miles flows through the reserve, contributing to one of the best game viewing destinations in the world. At Mala Mala, we were not only able to see the Big Five; lion, leopard, cape buffalo, rhinoceros, and elephant, but countless other wild animals and birds.
Mala Mala is the oldest and most historical private game reserve in South Africa and has existed since 1927. There are actually 3 separate camps in the reserve; Mala Mala Main Camp, Rattray's on Mala Mala, and Sable Camp. We stayed at the original and most authentic camp, Mala Mala Main Camp. There are 18 rooms with a camp capacity of 36 guests, so it's not very big. Rattray's is the newest, added several years ago, with 8 separate, luxury units and capacity of 16 guests (higher priced accommodations). We wanted to stay together, thus everyone agreed on the Main Camp. Sable Camp is connected to the Main Camp and has 7 luxury suites accommodating a total of 14.
Ryan took us all back to the camp where we met
South Africa from the Air
Taken as we fly to Mala Mala.
Greg and Nils, the overall general manager, registered, got an introduction to the camp, overview of our daily activities and settled into our very nice rooms. No sooner did we get into our room, Unit 14, which faces the Sand River, Doug looks out the sliding-glass doors and there are 3 or 4 elephants grazing just on the other side of the river. Our room is huge, with 2 bathrooms and a deck. A buffet lunch was served at 1:30 on the deck of the main "Buffalo Lodge". Everyone relaxed until 4:00 when we met Ryan and Greg for our first game drive. We'll save the details for the photos. We would go out together and then separate. The rangers had an earphone & mike and would communicate back-and-forth upon different sightings and then converge.
At about 6:00, just before sunset, we would meet at an arranged place in the bush for a sundowner where they would set-up a small table and serve wine, beer, sodas and munchies while watching the fabulous African sunset. After the sun disappeared, off we went into the darkness, the ranger using a hand-held powerful light to spot animals. The Milky Way and brightness
Mala Mala Airstrip
Our landing strip as we approach.
of the stars were amazing. Ryan was not only extremely well versed in the animal kingdom, but was amazing with his knowledge of the birds, reptiles, insects, trees and astronomy. By the way, Ryan is only 24 years old. These guys worked 7-days a week for 6 weeks and then got 2 weeks off. About 8:00, sometimes later, depending if we were in hot pursuit or watching an animal, we would return to camp, allowing time to have a pre-dinner drink at the Safari Bar. We would then eat a candle-lit dinner about 9:00 on the deck or in the reed-enclosed "boma" under an ancient Jackal berry tree. A boma is where the domestic animals, cattle, sheep, etc., would be kept overnight to protect them from the wild animals. After dinner, we're off to a good night sleep in great air-conditioned comfort. Actually, the weather during the day wasn't bad and at night it was cool. At night in the camp, we were not allowed to walk around outside of our room without being accompanied by a ranger.
At 5:30am Ryan would call our room with a "Good Morning, see you at 6:00". We would have a cup of
Meeting Ryan
Ryan picks us up as we land.
coffee or tea and a roll before jumping into the Land Rover for our morning game drive. The early mornings were crisp too. We would return about 9:30 for a full breakfast on the deck, including eggs, French toast, fresh fruit, homemade breads, muffins, etc. Our ranger took our orders and then ate with us and discussed the drive. After breakfast, a couple of the rangers would do a bush walk for an hour. Anyone could join them.
So, this was our schedule for our 3-night and 4-day safari. During our stay we had the opportunity to go see the luxury Rattray's Camp. It was very nice, but we made the right decision. Ours is a perfect safari camp! The accommodations and the service were impeccable. At the end of our time, we really didn't want to leave. It was so incredible to see that many wild animals so close and in nature.
At the end of this lifetime experience following our last game drive on the fourth day, Ryan and Greg took us to the airstrip where we boarded another small plane for the short flight to Johannesburg to catch our flight to Cape Town to meet
Our Group of Eight
Ryan takes our photo at the plane. From L to R is Charlie, Elizabeth, Evy, Mike, Annette, Doug, Kathryn and Bruce.
up with the ship. We actually arrived at the pier just before the ship had tied up to the dock, which was late in arriving because of a medical delay where someone had to be air lifted off the ship. Unfortunately, it was Ellie, Phil's significant other, a guy that Doug spent many hours next to at the big desk in the computer room while blogging.
The ship was having a special sundowner on Signal Hill, so we boarded quickly, took our bag to the suite and joined everyone else getting on the buses. Too bad, the tardiness of the ship cost us some sunset time on the Cape Town overlook, but it was a fun time anyway.
It has been an unforgettable 4 days!
Advertisement

Tot: 1.721s; Tpl: 0.021s; cc: 14; qc: 67; dbt: 0.0295s; 1; m:saturn w:www (104.131.125.221); sld: 1; ; mem: 1.5mb