Luxury Safari Lodge: Sabi Sabi Earth Lodge » The Awkward Tourist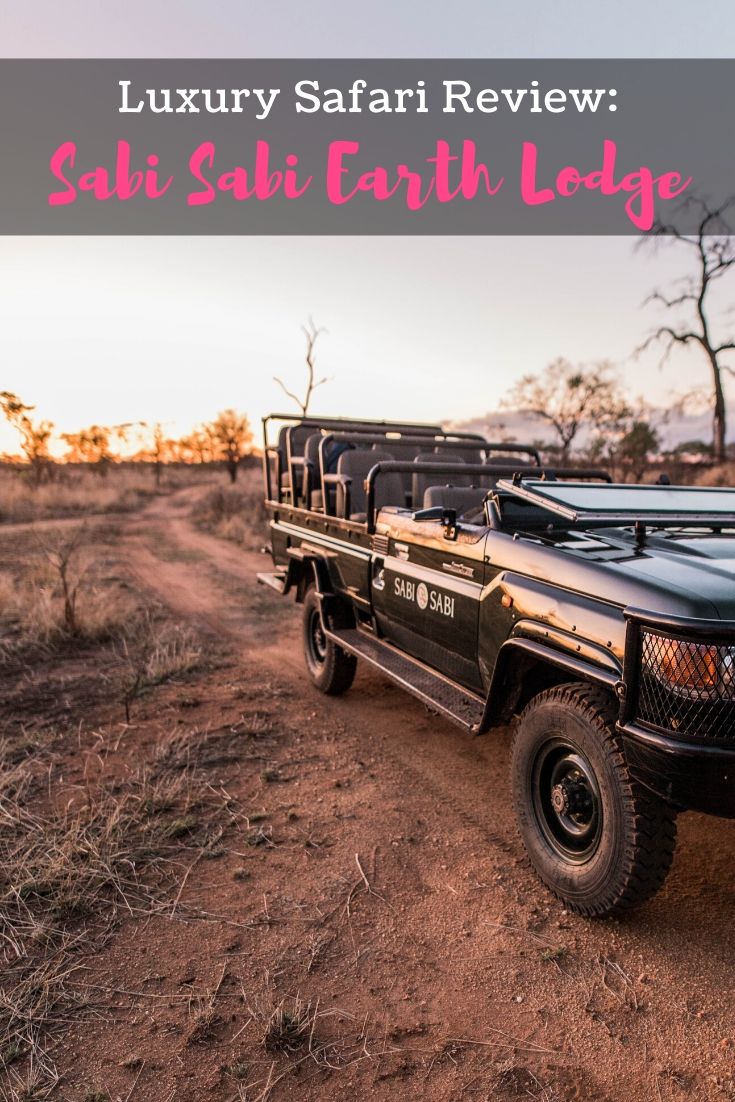 Who else has dreamed of a vacation at a luxury safari lodge?? I know I have. When Kevin popped the question and we started planning our wedding and honeymoon, I was in girly heaven. So when he floated the idea of a safari in South Africa as a honeymoon, I met it with a resounding HELL YEAH!! Ever since then, I have worked (REALLY) hard to grow my online brand. I did all of this with a major goal of collaborating with a kick-ass luxury safari lodge on our honeymoon. And guess what?? I DID IT!!
I got invited to stay Earth Lodge at Sabi Sabi Private Game Reserve in South Africa, and a luxury safari was exactly what I got. We had such a great time and I can't wait to tell you all about it! I recap my incredible experience at the lodge in this blog post, and as always all opinions expressed here are my own.
First, let me tell you a little about Sabi Sabi. Sabi Sabi Private Game Reserve is located in the Sabi Sands Reserve, in the Greater Kruger area in northeastern South Africa. This area is privately owned, with four Sabi Sabi lodges sprinkled within its property lines. These are Earth Lodge, Selati, Little Bush Camp, and Bush Lodge. Each lodge is unique and I hope to go back one day to experience the rest of them! Although you can self-drive into Kruger National Park, at the private game reserves you must have a reservation to drive in. You often pay an entrance fee and they give you entry and exit visas, which your accommodation stamps when you leave. The gatekeepers know who you are when you arrive, and we even had them check inside our car upon entry and exit.
Sabi Sabi Earth Lodge, in particular, is special not only because the suites are renovated as of mid-2019, but the design of the place is incredibly unique. Keeping true to its name, the lodge is set into the earth! When you arrive, you can't see the buildings because you are on top of the hill that the building is built into the side of. The point is to disrupt the landscape as little as possible and be in harmony with the surrounding environment. I think the lodge accomplished this brilliantly. We inspected the walls up close, and they consist of rocks and earth mixed with concrete to further the environmental harmony.
Our Arrival at Our First Luxury Safari Lodge
Sabi Sabi provided us with written directions before we arrived, and told us to ignore our GPS after a certain point. All bets are off in the African bush! Nevertheless, we ended up getting a little lost. After figuring out where we were, we arrived at Earth Lodge at 2:30 PM. We were greeted by the Assistant Lodge Manager Pieter, whom we ended up seeing a lot of during our stay. I would say that he was your man if you needed anything, but honestly, I ended up feeling that way about the entire staff.
Pieter gave us welcome drinks and a short orientation as our bags got whisked away to our room. This may seem odd, but as the lodges are open to the wilderness, there are some ground rules one must follow! These include not going beyond the lodge borders on foot, and not walking without an escort after dark. They frequently have animal visitors at the lodge and you definitely wouldn't want to surprise any of them!
We arrived during the lunch service and the meal and beverage staff immediately greeted us. Food and beverages (including alcohol) are included at the lodge, so you have carte blanche on food and drink. The lunch was delicious and the service was excellent, which was only our first experience with the 5-star service provided by the staff. After lunch, we got an escort to our suite and given a tour of the room. This may not be necessary for a normal resort or lodge, but it was in one of the Earth Lodge suites. There are so many areas and amenities that it took several minutes to go over it all!
There are 12 suites and one presidential suite at Earth Lodge, so it never feels crowded. When you're spending a large chunk of money on a luxury safari, an intimate feeling lodge is a bonus! The interior of the suites were totally remodeled in 2019. Each suite shines with a private plunge pool and outdoor living area, an outdoor shower, a wonderful soaking tub, his and hers sinks, thick fluffy robes, a closet with safe, a vanity area with storage, a huge king bed with mosquito canopy, a sitting area, a foyer with a coffee station, and a "mini" bar. I say this in quotations because this bar was anything but mini. Stocked with no less than 6 bottles of wine, different types of wine glasses, liquor, mixers, beer, soda, and garnishes, you have lots of options. Anything you would want to make a drink was there, including a lime! It was quite impressive. The suite was so gorgeous that I never wanted to leave!
Daily Included Game Drives
Soon enough it was time to embark on our first evening game drive. You leave at 4:30 PM, but just before that they set out snacks and drinks for high tea. We grabbed a couple of finger foods because we were in for a 3-hour safari! They introduced to our guide and tracker, who work together as a team to find the amazing animals of the park. Our guide was Tyron, along with Petro, the tracker. We stayed with this team during our whole stay, so they get to know what animals you want to see and you get to know them as well. This was a small detail, but I liked that we stayed with the same team for all of our game drives.
I thought that our first game drive was epic with a close-up mama-and-cub leopard sighting, but pretty much every game drive was epic. The Sabi Sand Game Reserve has a fantastic density of big game, with a particularly large concentration of leopard! This area is known for its high-end luxury safaris, but the cost is worth every penny when you can see almost every animal you want in just a couple of short days. During our time there, we had 4 (!!!) leopard sightings, as well as buffalo, wildebeest, giraffe, hyena, rhino, lion, and the endangered African Wild Dog.
Sundowner Drinks
My favorite part of the evening game drive came at sunset. We stopped at a nice spot and they set up a small bar on the safari truck! I enjoyed a glass of wine and some snacks while the sun sank and the light became soft and pink. It doesn't get much more romantic than that! After a while, we would set off again, this time with the car's headlights and a spotlight. This was an opportunity to see animals that maybe only or more active during the night. This is when I spotted my first hyena! I was excited to see it because I had never seen one in real life (not even in a zoo!). This one came right up to the car and sniffed us!
As soon as we arrived back at the lodge, it was time for dinner. The first night, they set up romantic tables on the lawn lit with candlelight. The chef came over and introduced herself, and presented us with a description of the menu for the night. We indulged ourselves with a couple of glasses of sparkling rosé. We had to take advantage of the included booze! Each course was better than the last, and we loved every bite. The best part (and maybe the most unnerving) was that you could hear animals in the darkness! It was a surreal experience and one I imagine you can only find on safari in Africa.
I wish we had had more time after dinner to relax, but the morning game drive comes bright and early! We got an escort back to our gorgeous villa and settled in for bed.
Morning Game Drive
I've never been as excited to wake up at dawn as I was at Sabi Sabi Earth Lodge! We watched the sunrise from our private veranda and then headed to the lobby. We enjoyed some coffee and snacks before we set off with Tyron and Petro to find more animals. The morning is surprisingly cool, and it was a welcome surprise that they had blankets in the truck for us. The game drive was similar to the night before, with Petro searching for tracks and Tyron listening to the radio chatter. The highlights of this drive were the rhinos and wild dogs! We sat with a large pack of African Wild Dogs for a while, which was amazing. As an endangered species, spotting them was quite a treat.
Once we arrived back at the lodge, it was time for breakfast. No stay at a luxury safari lodge would be complete without a killer breakfast overlooking the wilderness, would it? There was a buffet with essential and also ala carte options. The food was fresh and delicious, and I couldn't decide between sweet and savory. So I got both! The French toast was delicious and I enjoyed it with a mimosa. Hey, I was on vacation! I was also able to supplement my meal with some yummy meats and cheeses from the buffet. The ability to get exactly what I wanted when I wanted it made it a wonderful meal experience.
Morning tea before the game drive
The afternoon between game drives is free time to relax and explore the property. We took tons of photos but also wanted to take advantage of the spa. By American standards, the prices were very reasonable for all of the services. I wanted to do a 4-hour crazy relaxing experience, but there wasn't enough time. I went with the hour-long hot stone massage, which was magical. The masseuse was incredibly talented, I'm pretty sure I fell asleep! I would highly recommend a stop at the spa if you ever find yourself at Earth Lodge.
After another incredible game drive (with another leopard sighting!), we enjoyed a boma dinner. A boma is a community barbecue dinner, where we ate with our guide and the others we shared the safari car with. We ate a variety of amazing meats and other African foods while enjoying great company and conversation. It was really fun to get to know our guide and the other people who we had been sharing the safari car with. Tyron (our guide) had great animal stories! I loved how they set up the dinners differently every night. Each meal felt like its own unique experience.
The next morning after our game drive, we had to say goodbye to Sabi Sabi Earth Lodge. Saying goodbye to the staff might have been the hardest part! Even in the short amount of time that we were there, they made us feel like royalty. Our experience there was over-the-top amazing, and I hated to leave so soon. If you want a supremely unique and luxury safari experience at a reserve just overflowing with wildlife, Sabi Sabi is your place.
Check out a full room tour here!
This site contains affiliate links to products. We may receive a commission for purchases made through these links.
Safari Essentials!