Londolozi Varty Camp, Londolozi Private Game Reserve, Sabi Sands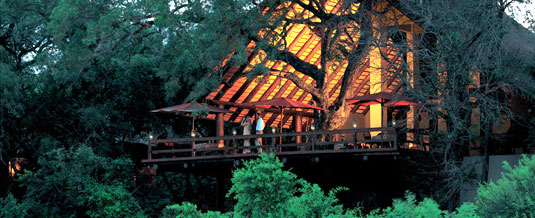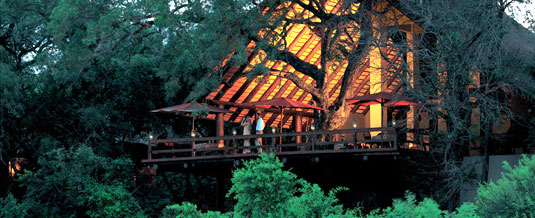 Londolozi Varty Camp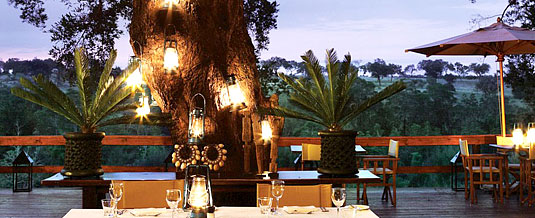 Main Lodge – Dining on Deck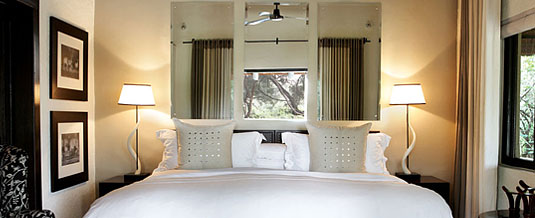 Chalet – Bedroom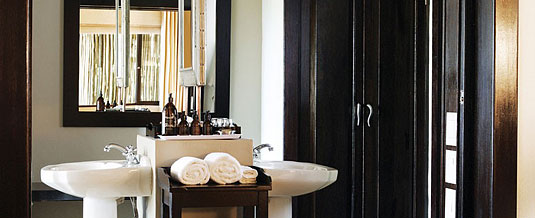 Chalet – Bathroom
Chalet – Bedroom
Chalet – Plunge Pool & Deck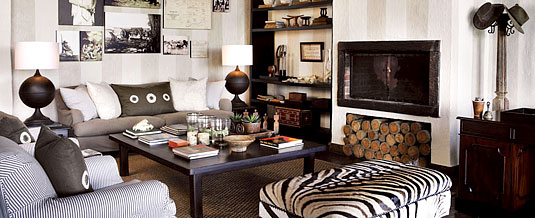 Main Lodge – Lounge
Main Lodge – Lounge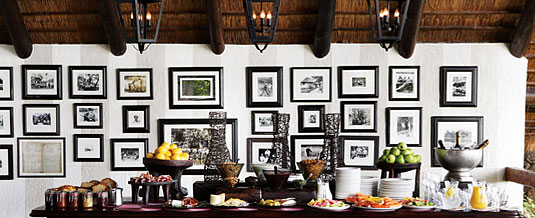 Main Lodge – Breakfast
Previous Next
Location of Londolozi Varty Camp
In the centre of Londolozi Private Game Reserve burns a fire in the very spot where the Varty forefathers set up their tents 80 years ago. This fire has been lit every night on the same spot for generations and embodies the significance of this camp and the continuity of the Varty custodianship. Varty camp is the heart of Londolozi.
This emphasis on family heritage means that children have always had a place at Londolozi, and this is particularly so at Varty Camp.
Londolozi's rich history is preserved and recorded in the original camp built in 1926. Four rondavels, which date back to the original Sparta Hunting Camp, are a special feature. Each have been set dressed to reflect a time gone by, this museum is a tribute to the early Bush veld Pioneers, a well-stocked wine cellar and an library (with Internet access) also have a home at Varty camp but it is Varty Camps main deck offering awe-inspiring views of the Sand River that captures the true essence of Africa.
Historical photographs add to the congenial atmosphere of the spacious deck, which incorporates an ancient Ebony Tree.
Londolozi Varty Camp at a Glance
Accommodation – Capacity – 20
8 Chalets and 2 Superior Chalets
Air-conditioning
Plunge pools and leisure decks
Great vaulted guest areas
African craft gallery and interpretive centre
Large camp swimming pool
Wine cellar
Children – Yes – 4yrs and over
Make an Enquiry or Booking
Accommodation at Londolozi Varty Camp
All the chalets and suites have private plunge pools and elevated timber decks. The focal point of each luxurious bathroom is a magnificent view of the lush green riverine vegetation. The essence of relaxation is to gaze from your bath over uninterrupted views.
Characterised by a timeless safari ambience, eight chalets and 2 suites all feature private plunge pools and decks with expansive river views.
Activities
Viewing Africa's most impressive wildlife on morning and evening game-drives in open game-viewing vehicles and on guided nature walks. The game viewing experience is complemented by other activities such as stargazing, bird watching, moonlit bush dinners (weather permitting), bush banqueting and bush presentations in the interpretive center. Visits to the staff village encompass the creche, the school, the adult learning centre, the clinic and the craft centre. World famous for its leopard sightings , International award-winning lodges, Londolozi offers guests an intimate experience and premium levels of service. Londolozi, meaning "Protector of all living things, has a rich heritage with roots as far back as 1926, Londolozi was the first game reserve in the world to achieve Relais et Chateaux status, World renowned for its bush dinners – a pioneer in this field, situated in one of the most productive wildlife areas in Africa: cheetah, rhino, lion, buffalo, elephant and, of course, leopard. Dynamic model in wise land management and creative wildlife conservation – Specialist Wildlife Safari
Access
Federal Air operates a daily flight from Johannesburg International Airport to Londolozi airstrip, which is a five-minute drive to the camp. There are twice daily scheduled flights from Johannesburg International Airport to Kruger Mpumalanga International Airport (KMI) on SA Express. Transfers from KMI to Londolozi airstrip are conducted by light aircraft and take 20 minutes. Londolozi is accessible by two-wheel drive vehicle on excellent roads. The driving time from Johannesburg is approximately five hours.
Child policy at Londolozi Varty Camp
Children under 12 years are accommodated by prior arrangement only:
Children 4yrs and over are always welcome!
Children four and five years are not be permitted on game drives, unless
the family have sole use of the private vehicle, and it has to be pre-booked,
Children aged 6 – 11 years old, may share a room with adults and will be charged 50% of an adult rate, which includes meals, accommodation and game drives;
Children 12 years and older sharing with adults, will pay full adult rate;
A maximum of two children may share (cot / mattress) with adults;
Make an Enquiry or Booking
View More of Londolozi's Lodges

Pioneer Camp

 

Founders Camp

Tree Camp

 

Granite Suites
ENQUIRIES & BOOKINGS
Please complete the following for reservation Enquiries and further information
Disclaimer: The information in these Web sites is used entirely at the reader's discretion, and is made available on the express condition
that no liability, expressed or implied, is accepted by Far and Wild Safaris cc or any of its associates or employees for the accuracy, content or use thereof.
No. of Days / Nights: 1 Day2 Day / 1 Night3 Day / 2 Nights4 Day / 3 Nights5 Day / 4 Nights6 Day / 5 Nights7 Days / 6 Nights8 Days / 7 Nights9 Days / 8 Nights10 Days / 9 Nights11 Days / 10 Nights12 Days / 11 Nights13 Days / 12 Nights14 Days / 13 Nights15 Days / 14 Nights16 Days / 15 Nights17 Days / 16 Nights18 Days / 17 Nights19 Days / 18 Nights20 Days / 19 Nights21 Days / 20 Nights22 Days / 21 Nights23 Days / 22 Nights24 Days / 23 Nights25 Days / 24 Nights26 Days / 25 Nights27 Days / 26 Nights28 Days / 27 Nights29 Days / 28 Nights30 Days / 29 Nights31 Days / 30 NightsMore than 31 Days / 30 Nights
No. of People: 123456789101112131415161718192021222324252627282930More than 30

Please type this code below


Source