Lion Sands Treehouses: The Ultimate Bush Bedrooms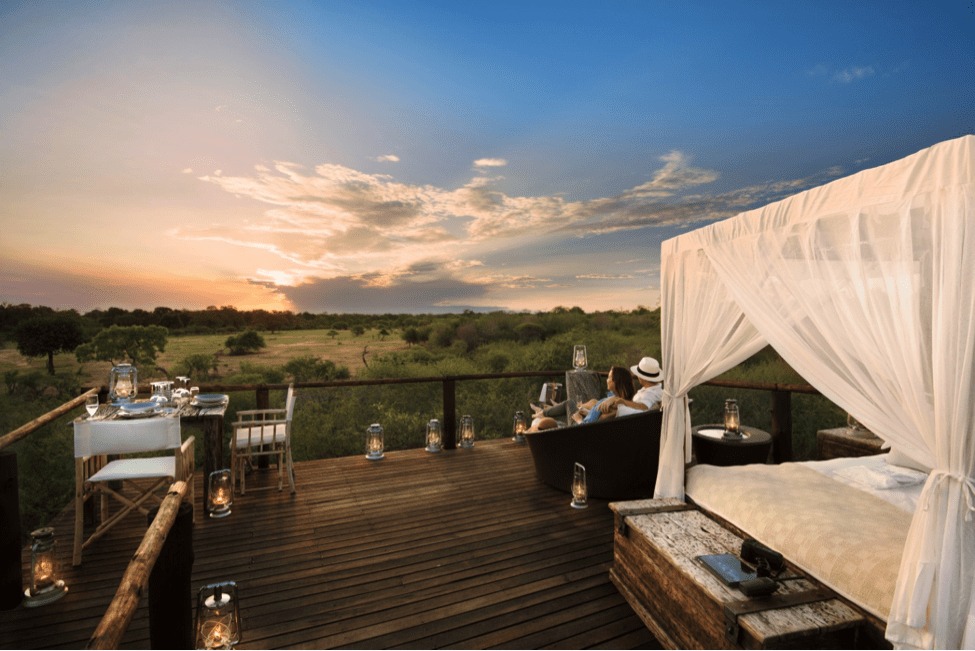 Lion Sands Treehouses, South Africa – Picture this: it is twilight in the bushveld. The hoots of the owls mingle with the high-pitched laughter of the hyenas and the soft footsteps of the crepuscular wild cats. The Milky Way beams its soft but brilliant light across the landscape. And YOU are there to experience it – high up in the trees, amidst the rustling of the leaves, nestled in a luxurious bed. If this image is appealing to you, look no further than the tree houses at Lion Sands Game Reserve in South Africa, where this exquisite beauty can be your reality in a heartbeat.
Treehouses in the African bush? Tell me more!
Kingston Treehouse Lion Sands
Lion Sands is home to three specially-designed, luxury treehouses – two in the Sabi Sand portion of the reserve, and one in the Kruger portion – where guests can spend a night immersed in the wilderness atmosphere. Ideal for honeymooners, nature enthusiasts, and adventurous families (of up to four people), the Lion Sands treehouses feature simple and beautiful architecture, bathroom facilities, comfortable beds, and unparalleled stargazing opportunities. Each treehouse is located a little distance away from the main lodge (1.5-4.5 km, or 1-2 mi), so guests are dropped off at sunset and picked up at sunrise to ensure a private and peaceful night's stay. Moreover, these tree houses are year-round getaways, so you can enjoy them at any season. Lions Sands Treehouses have the fame of being known as the "Treehouse hotel in Africa" or the "Treehouse hotel South Africa".
Can you describe the different Lion Sands treehouses a bit?
Chalkey's Treehouse Lion Sands
Of course! Chalkley's Treehouse in Sabi Sand was the first tree house, inspired by Guy Aubrey Chalkley, who built a camp in the trees to avoid the animals at night. Chalkley's sleeps two guests (no children) and has a beautiful view of the open plains. Amenities include a vanity and a WC (but no shower). Kingston Treehouse, also in Sabi Sand, is the ideal family treehouse, made entirely of wood and glass. It sleeps four guests (including children), and includes a double vanity, WC facilities, and a shower. At 60m², it is also the largest of the three treehouses. Tinyeleti Treehouse in Kruger boasts a fabulous view of the Sabie River, as well as a capacity for four guests (children included), a double vanity, and a WC (but again, no shower). None of the Lion Sands treehouses provide electricity or Wi-Fi – but who needs all that modern technology when you have the Milky Way practically at your fingertips?
Sounds incredible! But are Lion Sands treehouses safe?
Tinyeleti Treehouse, Lion Sands, South Africa
The Lion Sands treehouses are absolutely safe. Each one is built on a platform high off the ground, so there is a comfortable distance between guests and the animals below, and all the treehouses have safety doors. Other safety features vary slightly from treehouse to treehouse, but they include drawbridges and staircases. Lion Sands field guides will also provide a full safety orientation upon drop-off in the evening, and guests remain in radio communication with the field guides at the main lodge in case of emergency. Rest assured that the safety of our guests is our number one priority, so you need not worry.
I'm so excited! How do I book a trip to Lion Sands?
If the Lions Sands treehouses are calling your name, let us know! Our South Africa experts will be happy to assist you in planning the holiday of your dreams.
Thanks to MORE Luxury Hotels & Lodges for the images.
« Previous Post
Next Post »