Lion Sands River Lodge, Lion Sands Game Reserve, Sabi Sands Private Game Reserve
Lion Sands River Lodge
Main lodge – Deck area
Superior Luxury Suites – Bedroom
Superior Luxury Suites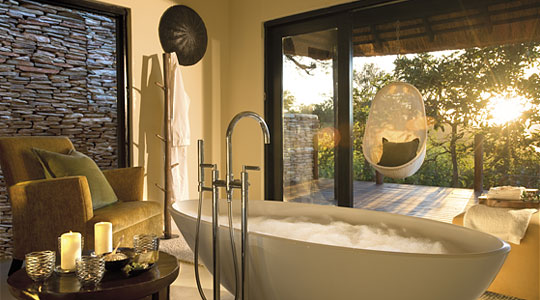 Superior Luxury Suites – Bathroom
Superior Luxury Suites – Bathroom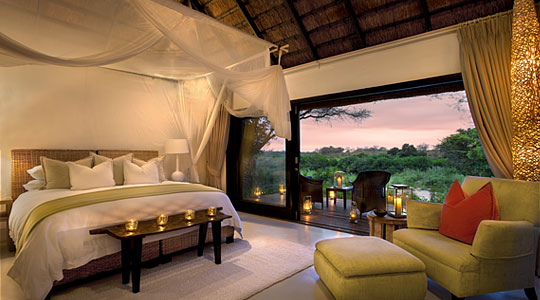 Luxury Room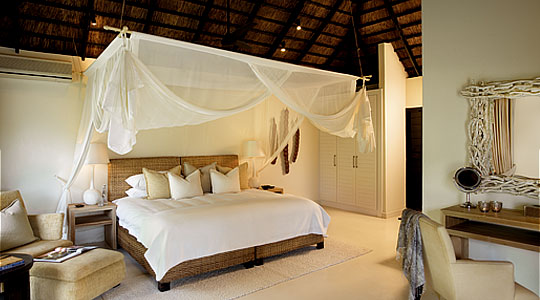 Luxury Room – Bedroom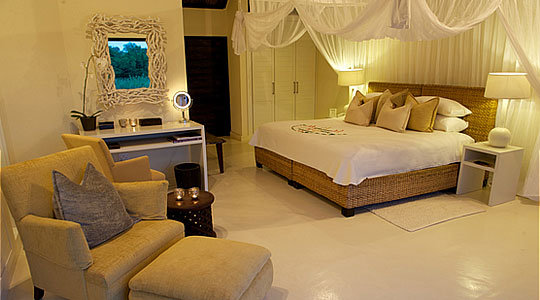 Luxury Room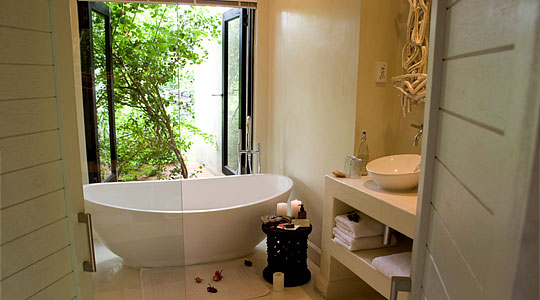 Luxury Room – Bathroom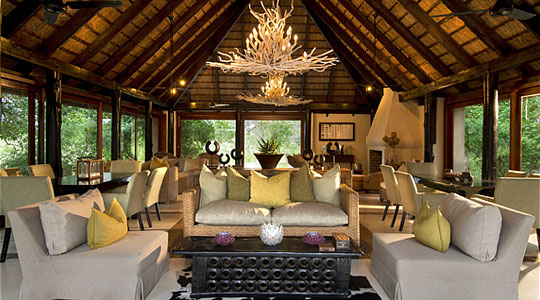 Main Lodge – Lounge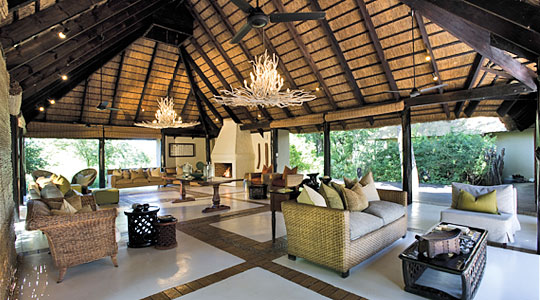 Main Lodge – Lounge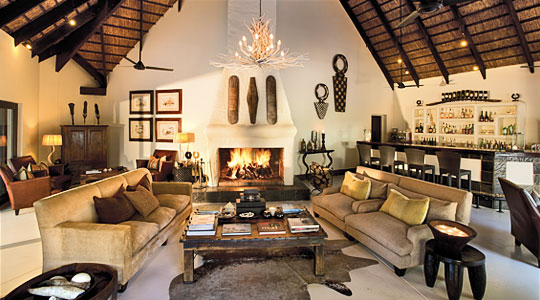 Main Lodge – Bar and Lounge area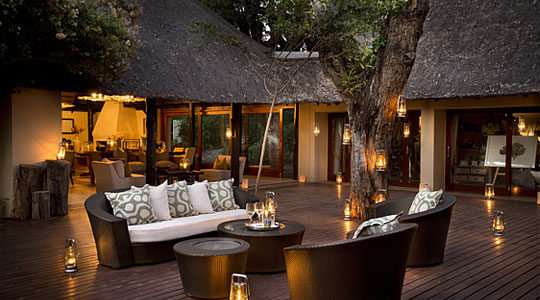 Main Lodge – Outdoor Lounge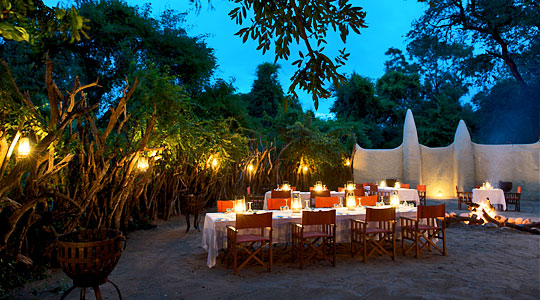 African Boma Dining
Game Drive – Leopard sighting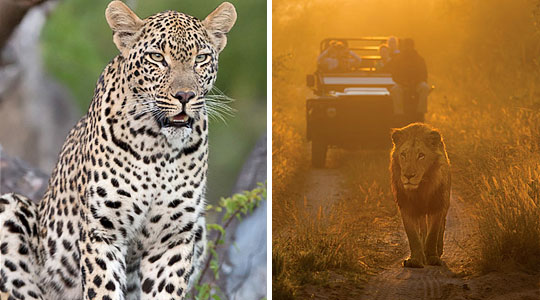 Game Drives – Leopard and Lion sighting
Hippo
Previous Next
Lion Sands 5 star River Lodge built on the banks of the Sabie River, positioned on a site within a magnificent riparian forest in the Sabi Sand Game Reserve. The Sabi Sand Game Reserve is open and adjacent to the Kruger National Park.  At Lion Sands River Lodge you are invited to relax and experience African hospitality at its best.
Lion Sands River Lodge at a Glance
Accommodation – 20 suites (12 Luxury & 8 Superior Luxury)
Family rooms (2 interleading suites)
Air-conditioning & ceiling fans
Luxurious bathrooms en suite
Outdoor shower
Mini bar
Communal Lounge with fireplace and Bar
2 Swimming Pools
Access for disabled
Gymnasium & Health Spa
Bird hide
Private hammocks
8 guests per Land Rover on wildlife safari game drives
Curio shop
Indoor & outside dining areas incl. Boma
Conference room
Internet & telephone access – free WiFi
Eskom 220V
For more information, to get a quote
or to make a reservation respond on the form below
Make an Enquiry or Booking
Accommodation at Lion Sands River Lodge
The 20 suites at Lion Sands River Lodge are brick under thatch, built on the bank of the perennial Sabie River with decks overlooking the riparian forest and river. The bedrooms are air-conditioned and have ceiling fans. Well appointed with comfortable seating, a mini bar and telephone.  The luxurious bathrooms  have indoor, as well as an outdoor shower. The suites are linked to the main lodge by raised wooden boardwalks.
The public areas at River Lodge offers guests the following: a private lounge and bar with fireplace, an outdoor safari lounge, 2 swimming pools (heated in winter), wooden viewing decks, a secluded bird hide, a magnificent River Island Deck built on the river, a conference room, Lalamuka Health Spa & gymnasium, curio shop & both an indoor and open-air (Boma) dining area.
Activities at Lion Sands River Lodge
Early morning and late afternoon into the night guided game drives in 'open' safari vehicle are conducted by experienced Rangers. Lion Sands are willing to cater for guests particular requirements with respect to the daily program.
The sole use of a Land Rover can be arranged upon request, subject to availability and this will be at an additional cost.
Child policy
Children under the age of 10 years are not allowed at River Lodge, unless the entire lodge is booked by one party.
Communication
River lodge has telephone, email and facsimile facilities.
Power Supply
The lodge is powered by 220v with power points in the rooms for chargers, electrical shavers and hairdryers.
Winter Months (May to September, +- 3°C – 22°C)
Warm jackets for the open vehicle game drives
Scarves, beanies and gloves and suggest layering
Jeans & shorts for everyday wear
Summer Months (October to April, +- 15°C – 38°C)
Cool cotton clothing, T-shirts & shirts (preferably in neutral colours)
Shorts for everyday wear
Jeans & trousers for evening wear (temperatures can drop to around 18°C)
Light jacket for the open vehicle game drives
For more information, to get a quote
or to make a reservation respond on the form below
Make an Enquiry or Booking
View More of Lion Sands's Lodges

Tinga Lodge

Narina Lodge

Ivory Lodge
ENQUIRIES & BOOKINGS
Please complete the following for reservation Enquiries and further information
Disclaimer: The information in these Web sites is used entirely at the reader's discretion, and is made available on the express condition
that no liability, expressed or implied, is accepted by Far and Wild Safaris cc or any of its associates or employees for the accuracy, content or use thereof.
No. of Days / Nights: 1 Day2 Day / 1 Night3 Day / 2 Nights4 Day / 3 Nights5 Day / 4 Nights6 Day / 5 Nights7 Days / 6 Nights8 Days / 7 Nights9 Days / 8 Nights10 Days / 9 Nights11 Days / 10 Nights12 Days / 11 Nights13 Days / 12 Nights14 Days / 13 Nights15 Days / 14 Nights16 Days / 15 Nights17 Days / 16 Nights18 Days / 17 Nights19 Days / 18 Nights20 Days / 19 Nights21 Days / 20 Nights22 Days / 21 Nights23 Days / 22 Nights24 Days / 23 Nights25 Days / 24 Nights26 Days / 25 Nights27 Days / 26 Nights28 Days / 27 Nights29 Days / 28 Nights30 Days / 29 Nights31 Days / 30 NightsMore than 31 Days / 30 Nights
No. of People: 123456789101112131415161718192021222324252627282930More than 30

Please type this code below


Source