Lion Sands Private Game Reserve, Sabi Sands Game Reserves
Lion Sands Private Game Reserve
Lion Sands River Lodge
Lion Sands Ivory Lodge
Lion Sands Tinga Lodge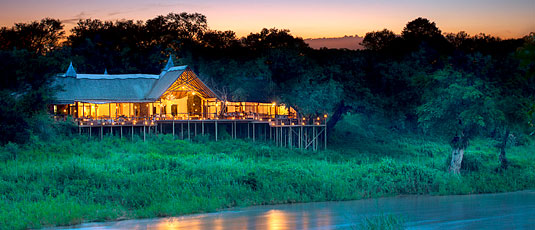 Lion Sands Narina Lodge
Elephant seen on Daily Game Drive
Pride of Lions
Previous Next
The name 'Sabie' comes from the Zulu 'eSaba', meaning 'afraid'. Both man and beast approach the river with care and respect. It is at once a sanctuary of life and a gripping display of survival. It is what visitors from all over the World come to experience: raw, untouched nature. In ancient days, the lush Sabie River basin was overrun by Africa's largest reptile, the Nile crocodile. Today, they bask in the shallows in slightly less numbers, still snapping their deadly jaws at any creature wading in close enough. Exciting wildlife safari venue.
Lion Sands Private Game Reserve is situated in the Southern portion of the 65,000-hectare Sabi Sands Game Reserve (southern Kruger National Park region), an area well known for its spectacular game viewing. Lion Sands offers luxurious accommodation at all Lodges.
Lion Sands Game Lodges
Luxury South African Safari

River Lodge
Lion Sands, Sabi Sand Game Reserve
The 20 suites at Lion Sands River Lodge are brick under thatch, built on the bank of the perennial Sabie River with decks overlooking the riparian forest and river. The bedrooms are air-conditioned and have ceiling fans.
    More Info

Ivory Lodge
Lion Sands, Sabi Sand Game Reserve
The Lodge has been built on the banks of the Sabie River with magnificent views, extending onto the open sand banks of the Kruger National Park. The Lodge faces due south and is approximately 100 meters upstream of River Lodge.
    More Info

Tinga Lodge
Lion Sands, Sabi Sand Game Reserve
The lodge is situated within a prime game viewing area. The Sabie River has the highest recorded density of leopards in Africa as well as one of the highest predator densities and offers excellent opportunities for spotting Africa's 'Big 5'.
    More Info
Narina Lodge
Lion Sands, Sabi Sand Game Reserve
Narina Lodge is perched amongst a canopy of ancient trees, offering a luxurious treehouse style experience, where all of the suites overlook the river and guests experience a feeling of 'oneness' with nature and their landscape.
    More Info
ENQUIRIES & BOOKINGS
Please complete the following for reservation Enquiries and further information
Disclaimer: The information in these Web sites is used entirely at the reader's discretion, and is made available on the express condition
that no liability, expressed or implied, is accepted by Far and Wild Safaris cc or any of its associates or employees for the accuracy, content or use thereof.
No. of Days / Nights: 1 Day2 Day / 1 Night3 Day / 2 Nights4 Day / 3 Nights5 Day / 4 Nights6 Day / 5 Nights7 Days / 6 Nights8 Days / 7 Nights9 Days / 8 Nights10 Days / 9 Nights11 Days / 10 Nights12 Days / 11 Nights13 Days / 12 Nights14 Days / 13 Nights15 Days / 14 Nights16 Days / 15 Nights17 Days / 16 Nights18 Days / 17 Nights19 Days / 18 Nights20 Days / 19 Nights21 Days / 20 Nights22 Days / 21 Nights23 Days / 22 Nights24 Days / 23 Nights25 Days / 24 Nights26 Days / 25 Nights27 Days / 26 Nights28 Days / 27 Nights29 Days / 28 Nights30 Days / 29 Nights31 Days / 30 NightsMore than 31 Days / 30 Nights
No. of People: 123456789101112131415161718192021222324252627282930More than 30

Please type this code below


Source