Lion Sands Narina Lodge, Lion Sands Game Reserve in the Sabi Sands Private Game Reserve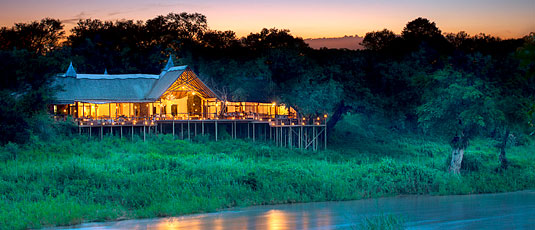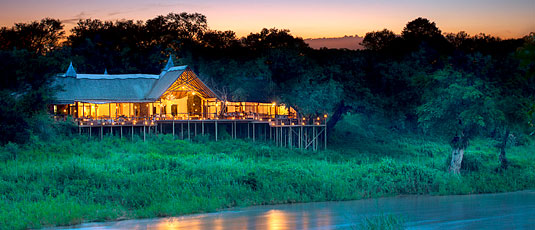 Lion Sands Narina Lodge
Outside Dining
Luxury Suite
Luxury Suite – Private Lounge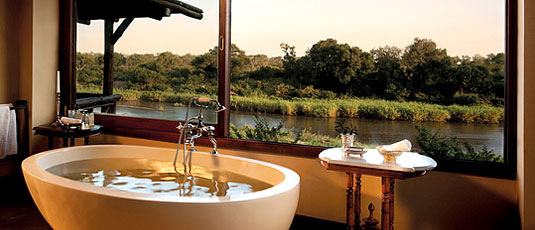 Luxury Suite – Bathroom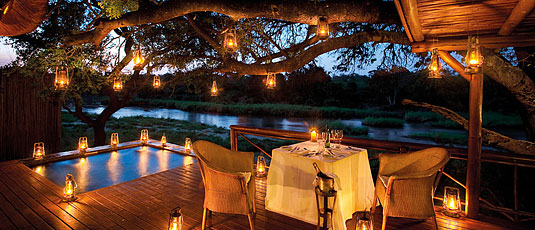 Luxury Suite – Private Dinner & plunge pool
Main Lodge – Bush Dinner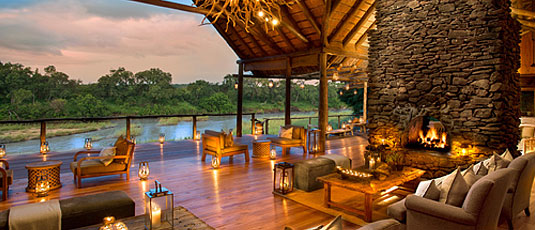 Main Lodge – Lounge
Main Lodge – Deck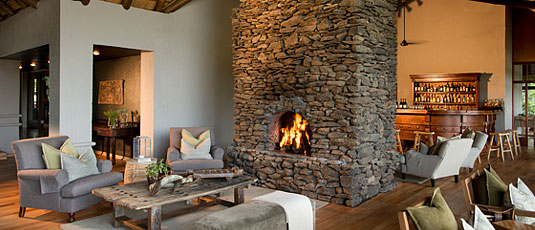 Main lodge – Bar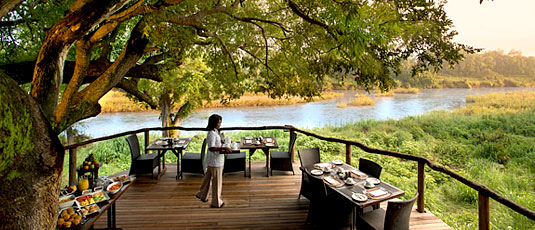 Main lodge – Breakfast on the Deck
Main Lodge – Dining Room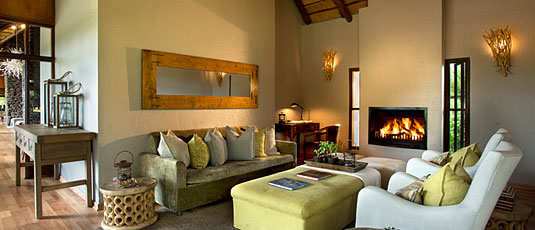 Main Lodge – Library with fireplace
Enjoy a private tasting in the Wine Cellar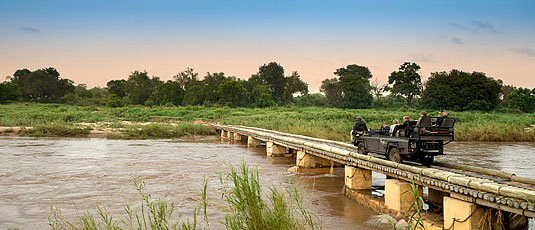 Luxury Big Five Wildlife Safari Game Drives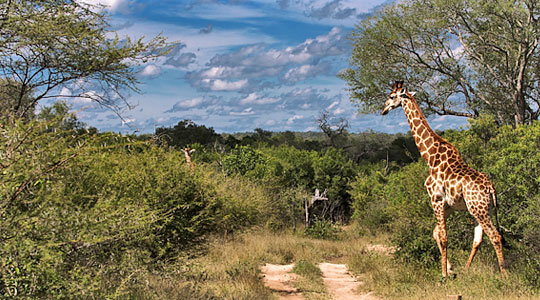 Giraffe sighting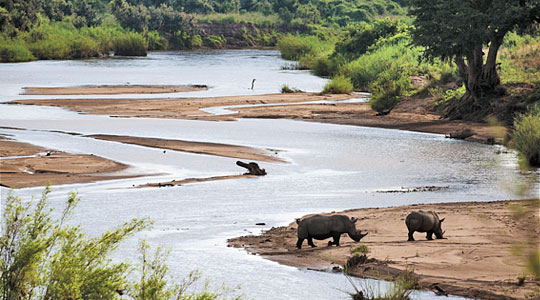 Rhino sighting
Previous Next
Narina Lodge is a unique African safari lodge located within a private concession, bordering the Kruger National Park and overlooking the game-rich Sabie River. The lodge is approximately a 5 hour drive from Johannesburg, ideally placed in a low risk malaria area.
Lion Sands Narina Lodge is perched amongst a canopy of ancient trees, offering a luxurious treehouse style experience, where all of the suites overlook the river and guests experience a feeling of 'oneness' with nature and their landscape.
Lion Sands Narina Lodge at a Glance
Accommodation: Number of Suites – 9
Maximum Guests – 18
Children – Yes, over 10 years
Beds – Double convertible to Twin
Mosquito Nets – Yes
Air Conditioning – Yes
Room Fans – Yes
Private plunge pool – Yes
Outdoor Showers – Yes
Personal Bars – Yes
Telephone – Yes
Satellite TV – Yes
Hairdryer – Yes
Internet Access – Yes
Power – 220v AC
Max number of guests on vehicle – 6
Wellness Centre – Yes
For more information, to get a quote
or to make a reservation respond on the form below
Make an Enquiry or Booking
Narina Lodge features nine private suites, all of which offer breath-taking views of the Sabie River. The main areas are linked via raised wooden walkways and offer guests a close connection to their surroundings. The rooms, built on raised stilts are spacious with luxurious bathrooms and modern amenities.
Lion Sands Narina Lodge is located on the banks of the Sabie River offers 5000 hectares of wild bush in a private concession, within the world renowned Kruger National Park. Narina Lodge is in a prime game viewing area, which is known for its high density of predators and regular leopard sightings. Game drives and bush walks offer excellent opportunities to see an abundance of mammals, reptiles, birds and plants. Off-road driving is permitted within the concession, allowing the guides and trackers to provide guests with close encounters as well as informative and interesting information and knowledge
Lions Sands, Narina Lodge offers a truly memorable and authentic African safari experience combined with private luxury and style.
For more information, to get a quote or
to make a reservation respond on the form below
Make an Enquiry or Booking
ENQUIRIES & BOOKINGS
Please complete the following for reservation Enquiries and further information
Disclaimer: The information in these Web sites is used entirely at the reader's discretion, and is made available on the express condition
that no liability, expressed or implied, is accepted by Far and Wild Safaris cc or any of its associates or employees for the accuracy, content or use thereof.
No. of Days / Nights: 1 Day2 Day / 1 Night3 Day / 2 Nights4 Day / 3 Nights5 Day / 4 Nights6 Day / 5 Nights7 Days / 6 Nights8 Days / 7 Nights9 Days / 8 Nights10 Days / 9 Nights11 Days / 10 Nights12 Days / 11 Nights13 Days / 12 Nights14 Days / 13 Nights15 Days / 14 Nights16 Days / 15 Nights17 Days / 16 Nights18 Days / 17 Nights19 Days / 18 Nights20 Days / 19 Nights21 Days / 20 Nights22 Days / 21 Nights23 Days / 22 Nights24 Days / 23 Nights25 Days / 24 Nights26 Days / 25 Nights27 Days / 26 Nights28 Days / 27 Nights29 Days / 28 Nights30 Days / 29 Nights31 Days / 30 NightsMore than 31 Days / 30 Nights
No. of People: 123456789101112131415161718192021222324252627282930More than 30

Please type this code below


Source