Dulini Lodge, Sabie Sands Game Reserve, South Africa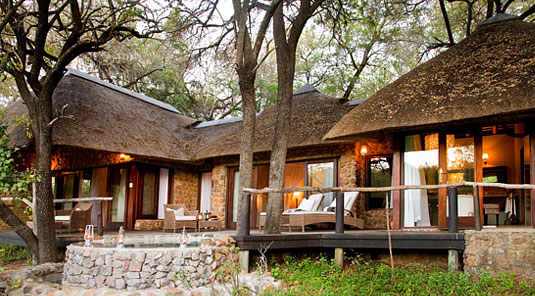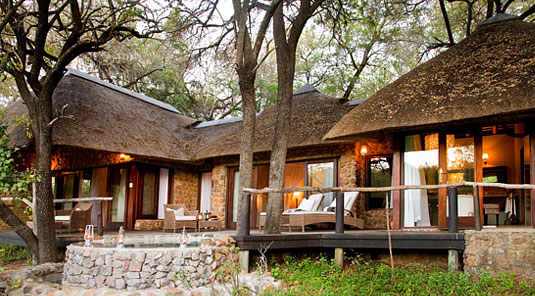 Dulini Lodge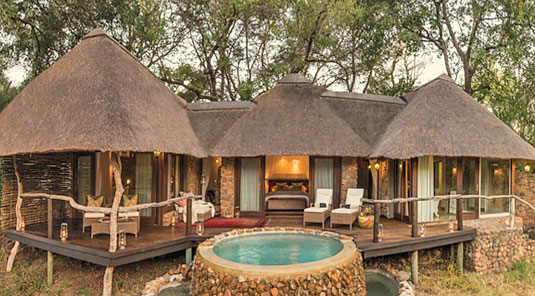 Luxury Thatched Suite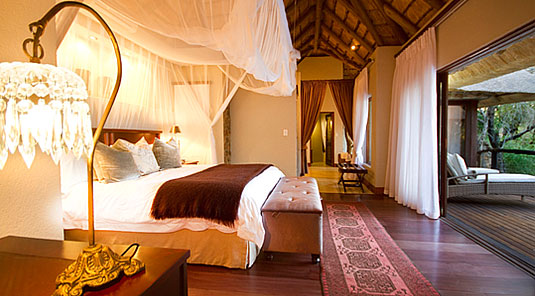 Luxury Suite – Bedroom and Deck
Luxury Suite – Bathroom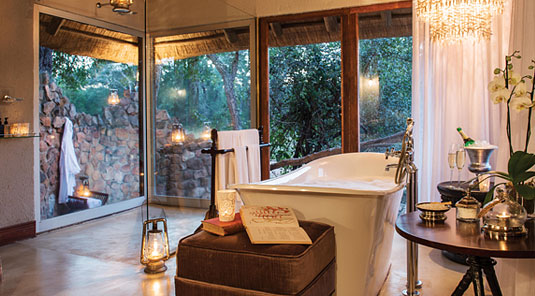 Luxury Suite – Bathroom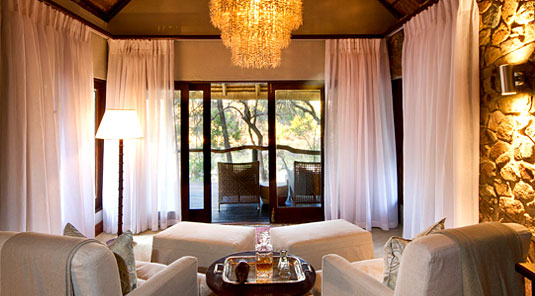 Luxury Suite – Private Lounge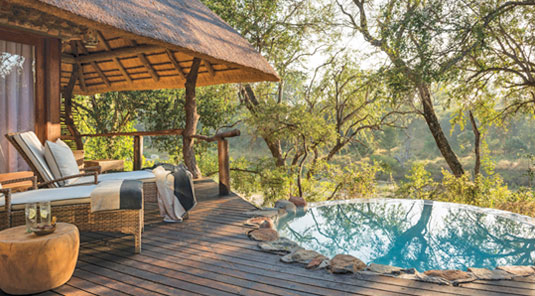 Luxury Suite – Private Deck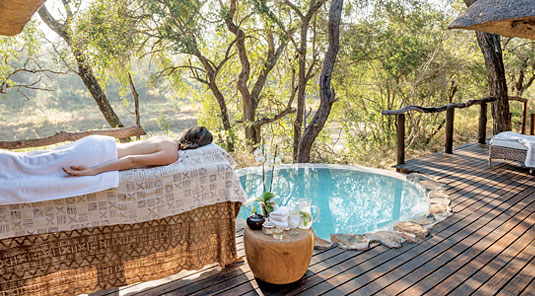 Luxury Suite – Private Spa Massage
Luxury Suite – Private Deck Lounge
Main Lodge
Kudu roaming the gardens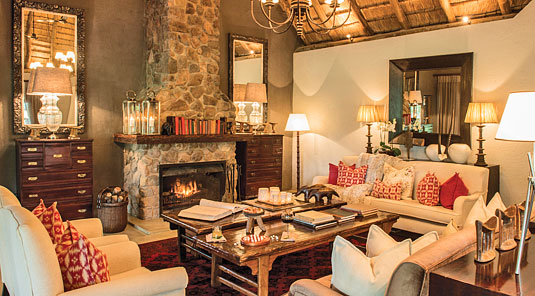 Main Lounge
Dining Room and Main Lounge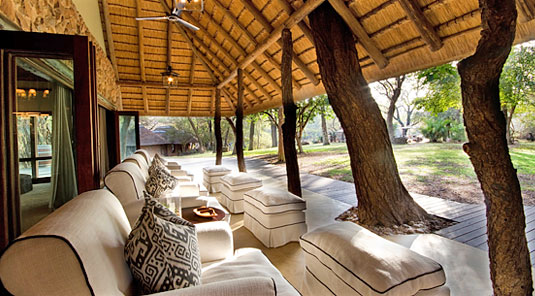 Sun Lounge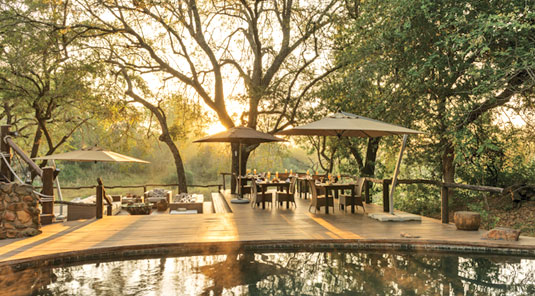 Main Deck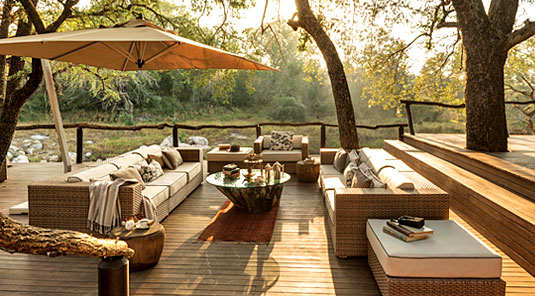 Main Deck with Lounge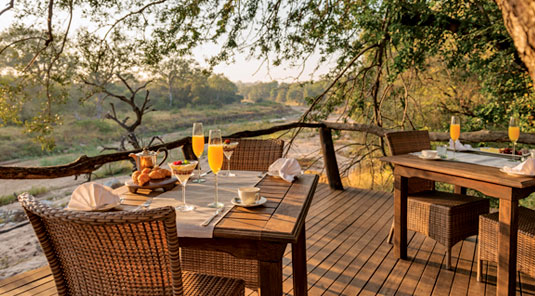 Main Deck with Dining Area
Meals served at the Main Lodge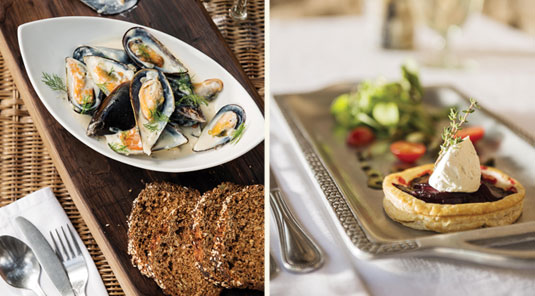 Meals served at Dulini Lodge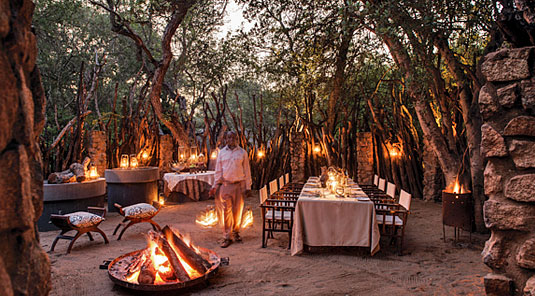 African Boma Dining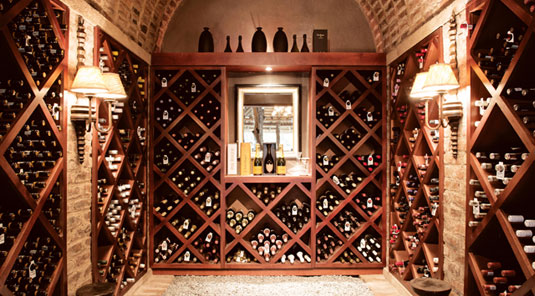 The wine cellar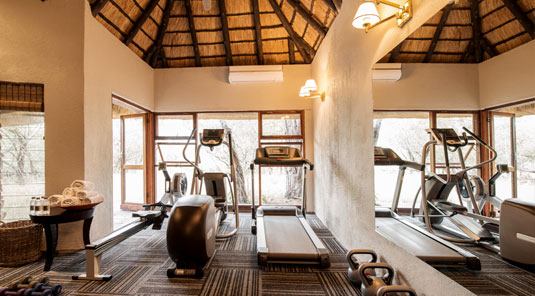 Small Gym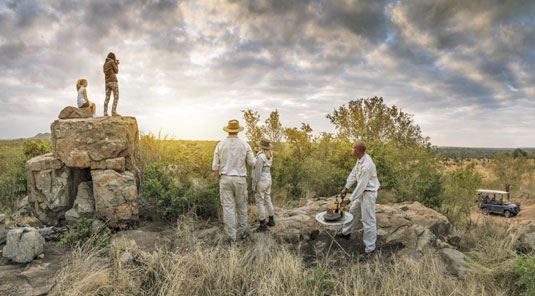 Game Drive Sundowners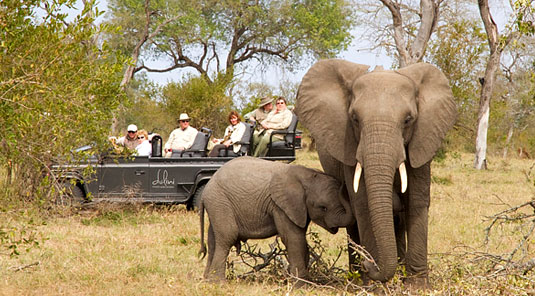 Daily Big 5 Game Drives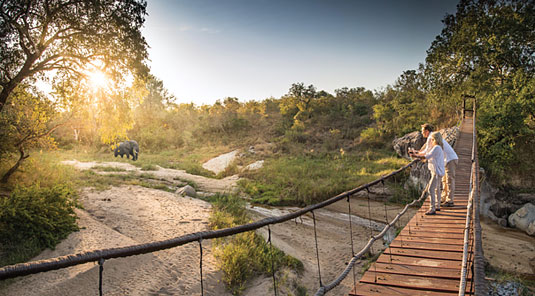 Rope Bridge with Elephant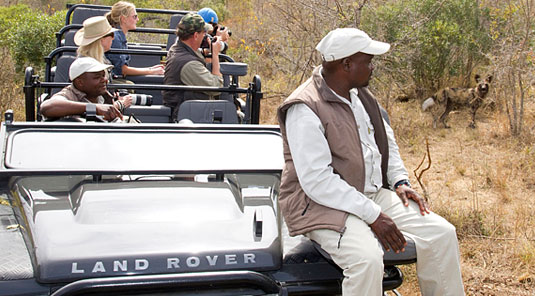 Wild Dog Sighting
Previous Next
Dulini Lodge Location
Dulini Lodge is situated in the western sector of the 65 000 hectare (160 600 acre) Sabi Sand Game Reserve, adjoining the Kruger National Park, Mpumalanga Province, South Africa. Dulini Lodge has been built on the banks of the seasonal Mabrak River,with a swing bridge across this river to Lodge facilities on the opposite bank.
Dulini Lodge has a traversing area of 10 000 hectares (25 000 acres) within the Sabi Sand Game Reserve.
Dulini Lodge at a Glance
Number of Suites – 6
Maximum Guests – 12
Children – Yes, from 8 years and older
Triples – None
Twin beds – All convertible to double
Air Conditioning / Room Fans – Yes
Mosquito Nets – No
Indoor Showers – Yes
Outdoor Showers – Yes
Seperate w.c – Yes
In Room Safe/ Personal Bars – Yes
Telephone – Yes
Hairdryers – Yes
Lodge Pools – Yes
Laundry Included – Yes
Suitable for Disabled Guests – Yes, with assistance
Distance Between Rooms – 10m/70ft
Kosher Food – Prior notice, extra cost
Internet Access – Yes
Power – 220v AC
Private 4×4 safari vehicle – No
Childminding – Yes
In-room Massage – Yes
Make an Enquiry or Booking
What sets Dulini Lodge apart
Situated in one of South Africa's most prestigious game reserves, the Sabi Sand Game Reserve
World famous for its leopard sightings
Renowned for having the best Big Five game viewing in the country
Superb volume of game and quality of sightings
One of the best grazing and browsing habitats in Southern Africa
Trained rangers and Shangaan trackers
Exciting nocturnal safaris
Bush dining
Gracious architecture and interiors
Effortless road and air access
Dulini Lodge Access
A 5 hour drive on good roads from Johannesburg to the Newington Gate of the Sabi Sand Game Reserve. Federal Air operates daily flights from OR Tambo (ORT) to Ulusaba airstrip, followed by an easy game drive to the lodge. SA Airlink offers daily flights from ORT to Kruger Mpumalanga International Airport, followed by either a road or air transfer to the lodge.
Guest Accommodatation
Dulini Safari Lodge sits in the western part of the Sabi Sand Game Reserve, under a leafy canopy of ebony trees. It consists of six spacious stone cottages on the banks of the Mabrak River. The air conditioned suites boast generous plunge pools, shady decks, and ensuite bathrooms with twin hand basins, separate w.c.'s and indoor and outdoor showers.
Guest Areas
The guest sitting area at Dulini Safari Lodge is an elegant space filled with big welcoming sofas and interesting African sculptures. Guests dine under an ancient jackalberry tree where skilled chefs serve delicious Pan African meals, or steal away for a romantic candlelit dinner in the well-stocked wine cellar and Safari Shop.
Dulini Lodge Safaris
View Africa's most impressive wildlife on morning and afternoon/evening game drives in open 4×4 safari vehicles with expert guides and Shangaan trackers. Guests can also enjoy interpretive guided bush walks with excellent birdwatching.
Weather
Summer months are hot and humid (Nov to Mar). Temperatures start to cool slightly (Apr), and winter months are warm with cold nights/dawns (May to Jun). July to September is very dry with cold night and early morning/late afternoon temperatures. Spring is very dry with hot, dry winds (Sept to Oct).
Rainfall
The first rains start towards the end of October. Rains or typical afternoon thundershowers (Nov and Mar), with potential scattered afternoon thundershowers (Apr).
Temperature
Summer: 13˚C to 38˚C / 55˚F to 100˚F. Winter: 3˚C to 32˚C / 37˚F to 90˚F
Best time to travel
All year round, best game viewing from March to October
Airstrip
Ulusaba Airstrip Coordinates are: S24˚47 and E31˚21 (width 18 m, length 1 360 m, elevation 432 m, tarred)
GPS co-ordinates
S 24°47.005' E 031°22.840'
Malaria
Dulini Lodge is situated in a malaria area and necessary precautions should be taken.
Child policy
Children from 8 years and older are welcome at Dulini. A child is considered 8-16 years old and will be charged 50% of the full adult rate when sharing with one or two adults. Should there be a full camp booking; children of any age will be welcome
ENQUIRIES & BOOKINGS
Please complete the following for reservation Enquiries and further information
Disclaimer: The information in these Web sites is used entirely at the reader's discretion, and is made available on the express condition
that no liability, expressed or implied, is accepted by Far and Wild Safaris cc or any of its associates or employees for the accuracy, content or use thereof.
No. of Days / Nights: 1 Day2 Day / 1 Night3 Day / 2 Nights4 Day / 3 Nights5 Day / 4 Nights6 Day / 5 Nights7 Days / 6 Nights8 Days / 7 Nights9 Days / 8 Nights10 Days / 9 Nights11 Days / 10 Nights12 Days / 11 Nights13 Days / 12 Nights14 Days / 13 Nights15 Days / 14 Nights16 Days / 15 Nights17 Days / 16 Nights18 Days / 17 Nights19 Days / 18 Nights20 Days / 19 Nights21 Days / 20 Nights22 Days / 21 Nights23 Days / 22 Nights24 Days / 23 Nights25 Days / 24 Nights26 Days / 25 Nights27 Days / 26 Nights28 Days / 27 Nights29 Days / 28 Nights30 Days / 29 Nights31 Days / 30 NightsMore than 31 Days / 30 Nights
No. of People: 123456789101112131415161718192021222324252627282930More than 30

Please type this code below


Source